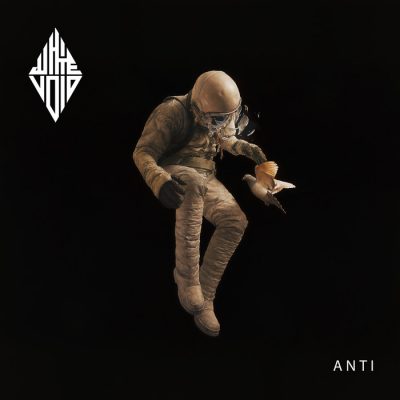 Spieldauer: 46:05 Minuten
Nun also "Anti": wieder ein Debüt, erneut ein seltsamer Stilmix und abermals eine sehr positive Überraschung, die mich – soviel sei vorweggenommen – auf ganzer Linie überzeugt. WHITE VOID sind eine eigenartige Ansammlung von Musikern mit ganz unterschiedlicher musikalischer Sozialisation. Von Black Metal, über Chiptune Electronica bis hin zu Pop und Blues ist bei Lars Are Nedland (Borknagar, Solefald), Tobias Solbakk (Insahn), Vegard Kummen (Elektronic-Spezialist) und Eivind Marum (Blues-Rock-Virtuose) die ganze Palette vertreten. Und trotzdem klingt das Ergebnis anders als erahnt – wobei was genau hätte man denn eigentlich erwartet?
Der Infotext verortet den Stil der Band musikalisch treffend "zwischen 70er Jahre Okkult-Rock, dem unapologetischen Hard Rock der 80er und der britischen New-Wave-Bewegung". Die Songs sind gleichsam düster und doch wunderschön, aggressiv wie melodisch, old-school und gleichzeitig extrem modern. Sie strotzen nur so vor packenden, getriebenen Hardrock-Riffs und New-Wave-Harmonien sowie gradiosen Blues-Rock-Soli und den mal melancholischen, mal fast euphorischen Vocals. Blue Öyster Cult treffen auf New Model Army featuring The Doors. Aber das Beste daran ist: dies alles bringt Songperlen und echte Ohrwürmer wie 'Do. Not. Sleep', 'The Shovel And The Cross' und 'All Chains Rust, All Men Die' hervor. Die häufig eingesetzten Orgelklänge lassen mich an Ghost denken, in einigen Passagen fühle ich mich an The Devil's Blood erinnert. Fans der genannten Bands, Elemente und Stile sollten also unbedingt mal ein Ohr riskieren. Und alle anderen eigentlich auch!
Michael Gaspar vergibt 8,5 von 10 Punkten