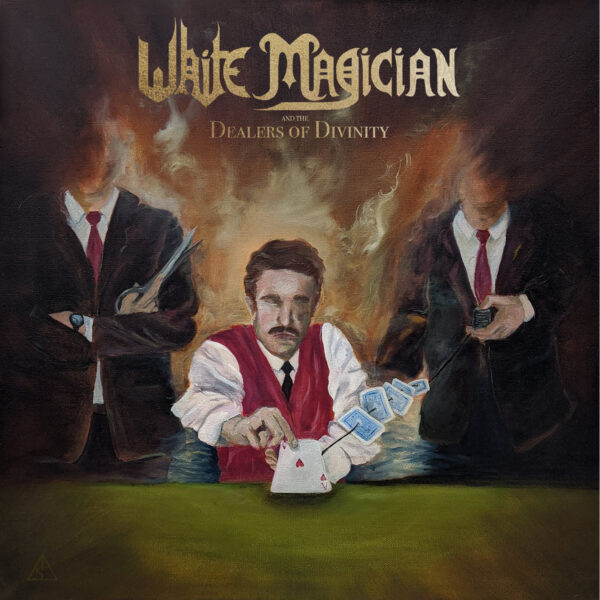 WHITE MAGICIAN
Titel: DEALERS OF DIVINITY
Label: CRUZ DEL SUR / SOULFOOD
Spieldauer: 49:44 Minuten
Auf alt getrimmte Sounds feiern seit geraumer Zeit fröhliche Urständ. Die Amerikaner WHITE MAGICIAN orientieren sich dabei zu gleichen Teilen an enigmatischem 70ies Hardrock wie Blue Öyster Cult sowie jüngeren, okkult daherkommenden Nachlassverwaltern des 70er Jahre Rock, so etwa Year Of The Goat. Dabei setzen sie anstatt auf bis ins letzte Detail ausgeklügelte Songs eher auf die urwüchsige Energie und songeschreiberische Experimentierfreude der Pionierzeit, verbinden diese jedoch mit instrumentaler Eleganz (Gitarren!).
So salbadert gleich der eröffnende Titeltrack mit zielstrebiger Chuzpe drauflos und bietet dabei durchaus nachvollziehbare Wendungen. "Mad Magic II" bedient sich protometallischer Kniffe irgednwo zwischen Gun und Bloodrock und könnte irgendwie glatt aus der Feder Kadavars stammen. Danach pendeln die Mannen um Frontmann The Great Kaiser, unterbrochen vom "Spanish Caravan"-artigen Instrumental "Fading Into The Obscurity Of Ages", in stets etwa achtminütigen, der überbordenden Kreativität der Band Platz bietenden Stücken zwischen diesen Zutaten.
Neben dem beachtlichen Energielevel gefällt die mitunter etwas verwaschene Produktion von "Dealers Of Divinity". Qualitativ ist die Band bereits auf einem beachtlichen Weg, darf aber noch weiter am Wiedererkennungswert ihrer Stücke feilen. Ellenlange Instrumentalpassagen innerhalb der Songs ("Magia Nostra") sind schön und gut, bedürfen aber auch einer gewissen songschreiberischen Disziplin, die weiter gehende Orientierungspunkte zulässt. Und schließlich fällt doch auf, dass zumindest die stets zum Ende der Songs hin erklingenden Gitarrenharmonien als sich wiederholender, durchsichtiger Songwriting-Kniff gelten müssen. Insgesamt schlagen sich WHITE MAGICIAN aufgrund ihrer musikalischen Meisterschaft jedoch etwas besser als die etwas schweinerockiger daherkommenden Neptune Power Federation.
Patrick Müller vergibt 7,5 von 10 Punkten