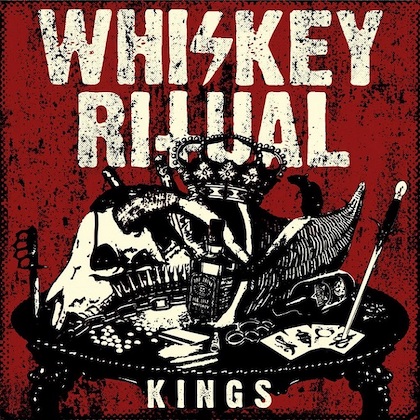 WHISKEY RITUAL
Titel: KINGS
Spieldauer: 37:02 Minuten
VÖ: 09. Dezember 2022
Passender hätten die Italiener von WHISKEY RITUAL aus Parma ihre neue Scheibe nicht nennen können, denn was sie hier auf "Kings" vorlegen ist wahrhaft edel und königlich. Auch wenn das vielleicht eine Kategorisierung ist, die man dem Black Punk 'n' Roll eher selten zuschreibt. Aber der Reihe nach. Mir ist diese Scheibe leider komplett durch die Lappen gegangen ist, da sie bereits Ende letzten Jahres erschienen ist. Daher muss sie meines Erachtens noch in den Reviewkanon mit aufgenommen werden.
WHISKEY RITUAL spielen Black 'n' Roll, unprätentiös, haben ein unglaubliches Gespür diese Stilart authentisch rüber zu bringen und schreiben tolle Songs. Der eröffnende Titeltrack bolzt gleich alles weg, bellt und blastet jeden um. Hier wird sehr viel auf die blackmetallische Seite fokussiert, wenn gleichzeitig der Punk und der Rock'n'Roll nicht zu kurz kommen. Wie schon auf der Vorgängerscheibe Black Metal Ultras fahren die Italiener hier einen eingängigen, abwechslungsreichen und jederzeit schwarzen Mix der Stilarten. Federleicht verbinden sie diese Spielarten miteinander, als hätten sie beides im Blut. Und das gilt es hier stark zu vermuten.
Vielleicht mag man WHISKEY RITUAL als das Pendant zu den Norwegern Kvelertak sehen, wobei letztgenannte das Komponieren aus Sicht des Punk anpacken und hier eher von Black Metal Seite angegriffen wird. Manche Gangshouts sind grandios eingängig und laden sogar den letzten Hinterwäldler zum Mitgröhlen ein.
Formidable Scheibe, die unglaublich Spaß macht. Egal ob 'Robin Hood', 'Jetlag', 'Eye for an Eye' oder der Rausschmeißer 'Welcome to the Gray Zone' hier sind black-punkige Hits am Start. Bockstark und brutal gut! Erschienen auf dem qualitätsbewußten Berliner Folter Records Label.
Ingo Holzhäuser vergibt 9 von 10 Punkten