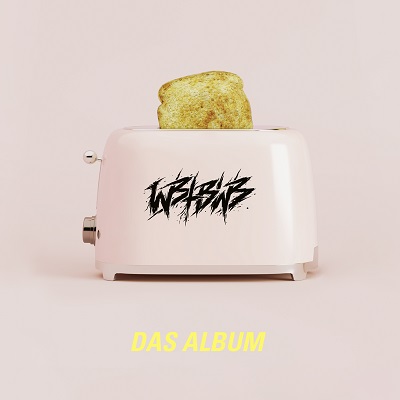 WE BUTTER THE BREAD WITH BUTTER
Titel: DAS ALBUM
Spieldauer: 41:12 Minuten
Die Berliner Modern Metalcoreler WE BUTTER THE BREAD WITH BUTTER sind nach zwischenzeitlich angewachsenem Lineup wieder zum gewohnten, geliebten wie umstrittenen Duo aus Marcel Neumann und Tobias Schultka geschrumpft.
Mit "Das Album" legen sie ihren mittlerweile fünften Studio-Output vor. Egal ob man das Ganze jetzt Electrocore, Trancecore oder irgendwie anders nennt, die Erfolgsformel ist und bleibt Deathcore mit variablen, elektronischen Elementen und direkten, witzigen, deutschsprachigen Lyrics. Quasi eine sehr harte Mischung aus Callejon und Deichkind.
Musikalisch ist dabei alles erlaubt, was Spaß macht und gefällt. Eine Kombination aus Deathcore-Gekeife und hymnischem Chorus beim Quasi-Liebeslied 'Piks Mich' oder ein Hardcore Tekkno-Ausbruch wie beim mächtig unterhaltsamen 'Läuft'. Aber auch eine Metalcore-Hymne wie 'Dreh Auf' oder Rap-Parts wie in der Vorabsingle 'N!ce' sind möglich.
Textlich geht es nicht mehr ganz so albern und absurd wie früher, sondern manchmal sogar tiefgründig bis gesellschaftskritisch, zu. So beispielsweise beim ebenfalls vorab ausgekoppelten E-Roller-Track '20 km/h'. Beim grandiosen 'Jump 'n' Run' geht es gar um das Leben an sich, bevor es in 'Sprich Sie Einfach An' vermutlich nicht ganz ernst gemeinte Flirt-Tipps gibt. Aber auch Klamauk wie der 'Schreibwarenfachverkäufer' und das knallharte 'Meine Finger Sind Zu Klein' haben ihren Platz und ihre Berechtigung.
Der neue Dreher ist unterhaltsam, kurzweilig und macht trotz des insgesamt enorm harten Sounds auch beim wiederholten Anhören Bock. Die grandiose Produktion wurde übrigens von Christoph Wieczorek (Annisokay, Emil Bulls) übernommen. In diesem Sinne: "Das Leben ist kein Jump 'n' Run, gib nicht einfach auf!"
Michael Gaspar vergibt 7,5 von 10 Punkten