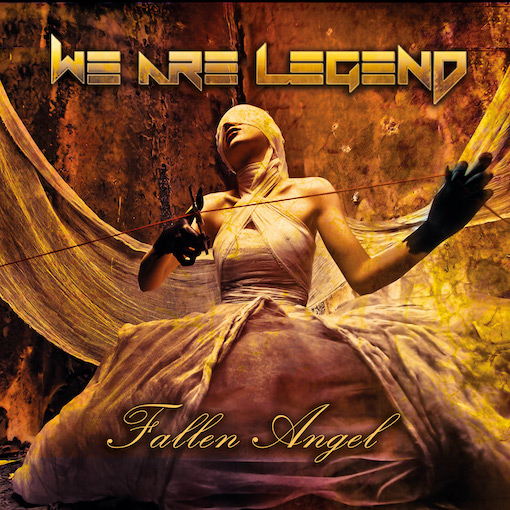 WE ARE LEGEND
Titel: FALLEN ANGEL
Label: METALAPOLIS RECORDS/SPV
Spieldauer: 53:53 Minuten
VÖ: 29. Juli 2022
Die internationalen Progressive Power Metaller WE ARE LEGEND haben ihren Ursprung in Deutschland und in ehemaligen Mitgliedern von Stormwitch, Abraxas und Coronatus. Nach einer fünfjährigen Pause wurde die Band 2021 wieder zum Leben erweckt und legt als neu formierter Sechser nun das neue Album "Fallen Angel" vor.
Der Bandsound ist hörbar im US Power Metal verwurzelt und wird von harten Riffs, melodischen Vocals und druckvollem Drumming dominiert. Hinzu treten umfangreiche progressive Elemente, neoklassische Pianolines und Chöre.
Der Opener `Tale Of A Legend´ ist ein rundum gelungener Track, der die Erwartungen mächtig steigert, welche sogleich durch den Titelsong wieder etwas geschmälert werden, denn wie einige weitere Nummern reißt einen das Stück ein wenig aus dem Groove/Flow heraus.
Der packende Wechselgesang zwischen Lead-Vokalist Selin Schönbeck und Sängerin Eleonora wird durch die tief gestimmten Gitarren ein wenig ausgebremst und der Song kommt letzten Endes nicht so richtig in Gang.
Manche Nummern wirken mit A Capella-/Chorpassagen, Piano- und Streicher-Parts und dem ein oder andere Effekt wie Einspielungen oder gesprochenen Teilen, den harten Riffs und teilweise ausladenden Prog-Parts einerseits sehr spannend und abwechslungsreich, andererseits ein wenig überladen und zerrissen sowie nicht wirklich harmonisch und ausgewogen genug.
So stehen dann ein packender Ohrwurm wie das grandiose `Angel Station´, welches in seiner Simplizität aber nicht so recht zum komplexen Ansatz und sonstigen Konzept passen will, und das umwerfende `Prayer For The Fallen´ einem eher unrunden und unruhigen Song wie `I Am This One´ gegenüber.
Dies sorgt für einen durchwachsenen Eindruck des Drehers, offenbart aber auch einen Haufen Kreativität und Potential und verspricht eine Menge für die Zukunft und lässt auf weitere Großtaten hoffen. Fans von leicht vertracktem pumpenden Power/Prog Metal sollten trotz allem ruhig mal ein Ohr riskieren.
Michael Gaspar vergibt 7 von 10 Punkten