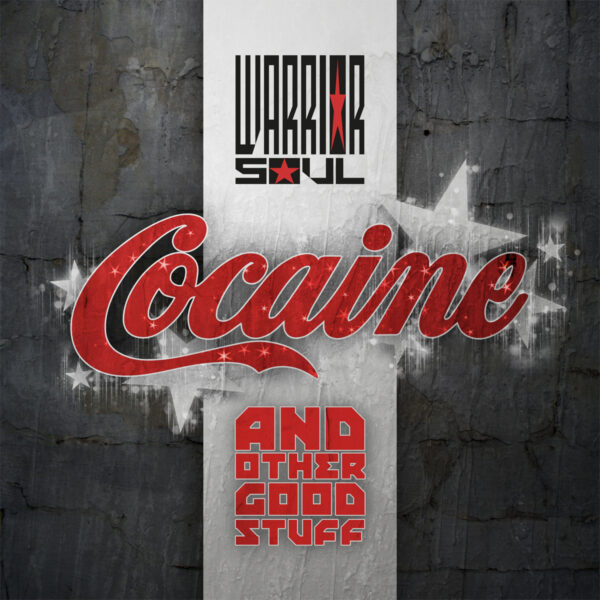 WARRIOR SOUL
Titel: COCAINE AND OTHER GOOD STUFF
Spieldauer: 38:55 Minuten
Kory Clarke, heutzutage hauptsächlich als bildender Künstler tätig, hat es sich in den letzten 15 Jahren mit allerlei Aktionen selbst bei seiner treuesten Fanbase verscherzt. Ob nun ausgerechnet ein Coveralbum dazu angetan ist, einer Band, die einst mit großartigen Werken wie "Last Decade Dead Century" oder "Salutations From The Ghetto Nation" sowie einem dem Rock'n'Roll frisches Leben einhauchenden Soundgebräu für Furore sorgte, wage ich zu bezweifeln.
Wie dem auch sei: mit einem bunt zusammengewürfelten Haufen röhrt der ziemlich fertig klingende Clarke sich mal schlecht ("Crosstown Traffic" oder "Let the Good Times Roll"), mal recht ("Cocaine") durch mitunter saftlos vorgetragene, wenig überraschend ausgewählte Preziosen der vorwiegend amerikanischen Rockgeschichte ("Cold Gin"). Was sich also mit der Single "Elected" bereits ankündigte, wird hier zur bitteren Realität: "Cocaine And Other Good Stuff" taugt ob seiner konservativen Songauswahl weder als Geschichtsstunde noch als Partybeschleuniger. Vielmehr ist man nach einiger Zeit erschreckt ob des Mangels an Inspiration (Van Halens "DOA" – pfui Deibel), der hier aus den Boxen kriecht. Gerade der Gitarrensound ist neben Clarkes Gehuste ein echter Party Pooper.
Lemmy dürfte sich ob der dahingelutschten Version von "Outlaw" im Grabe umdrehen, Kiss hätten auch "Firehouse" selbst kaum kraftloser vortragen können. "American Band" geht ebenso wie Priests "Living After Midnight" (grausliger Drumsound allerdings) gerade noch ok. Dennoch ist man froh, wenn dieses Gruselkabinett schließlich seine Pforten schließt. Bleibt nur eine Frage: warum, Kory, warum? Genauso unnütz wie, zugegeben, BPMD.
Tracklist:
1. Good Times Roll (The Cars)
2. Cocaine (J.J. Cale)
3. Crosstown Traffic (Jimi Hendrix)
4. Cold Gin (KISS)
5. D.O.A. (Van Halen)
6. Elected (Alice Cooper)
7. Outlaw (Motörhead)
8. Firehouse (KISS)
9. Get Down Tonight (KC And The Sunshine Band)
10. We're An American Band (Grand Funk Railroad)
11. Living After Midnight (Judas Priest)
Patrick Müller vergibt keine Bewertung