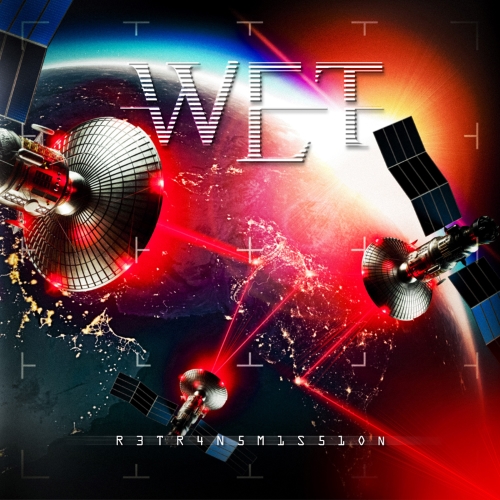 W.E.T.
Titel: RETRANSMISSION
Spieldauer: 41:52 Minuten
Man sollte ja meinen, dass Robert Säll mit (W)ork of Art, Erik Mårtensson mit (E)clipse und Jeff Scott Soto mit… seinen unzähligen Projekten u. A. auch (T)alisman vollständig ausgelastet seien. Aber alle 3 bis 4 Jahre packt sie die Arbeitswut, und sie veröffentlichen ihren immer noch vorhandenen kreativen Überschuss, mittlerweile seit dem Jahr 2009, unter dem Namen W.E.T. auf erstklassigen AOR/Melodic-Hardrock-Alben.
Auch die vierte Studioscheibe 'Retransmission' macht da keine Ausnahme. W.E.T. wissen, wie sie ihr Publikum fachgerecht bedienen. Ob mit Powerhouse-Rock wie dem Opener 'Big Boys Don't Cry', dem mit coolen Backings versehenen 'Call Of The Wild' oder dem treibenden'Beautiful Game', einer ganzen Latte von Midtempo-Refrainmonstern, oder obligatorischen Balladen wie 'What Are You Waiting For', hier zeigen Könner Ihres Fachs, was sie drauf haben. Und das ist auch ein klein wenig die Krux dieses Albums. Ich nenne das gerne den Teflon-Effekt, alles gleitet daran ab. Songwriting, instrumentale wie vokale Ausführung, Produktion, Cover, alles stimmt. Aber W.E.T. liefern hier ein kleines bisschen zu selbstsicher, zu routiniert. Es fehlt minimal an dem Euphorischen, Mitreissenden, vielleicht auch Hungrigem.
Aber das ist letztendlich mal Jammern auf hohem Niveau. Der Freund des Genres findet auf 'Retransmission' definitiv elf melodisch hardrockige Klassesongs, die ihn von Anfang bis Ende glücklich machen dürften. Und wenn die Zielvorgabe so präzise erfüllt wird, kann man einfach nur von einer guten Scheibe sprechen.
Dirk Eckhard vergibt 8 von 10 Punkten