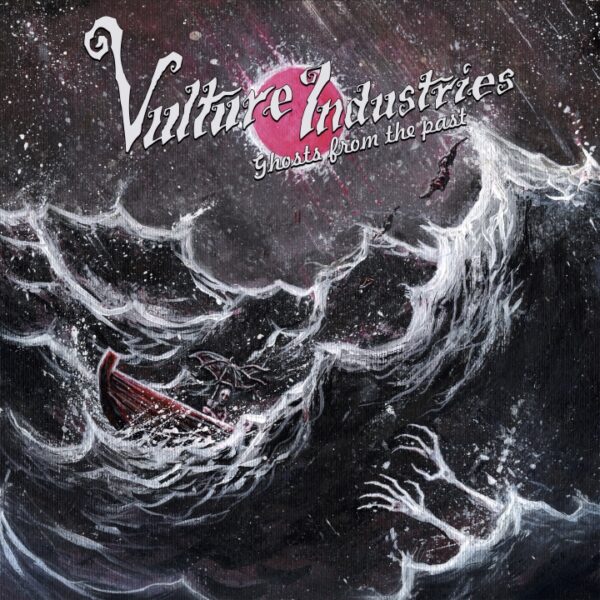 VULTURE INDUSTRIES
Titel: GHOST FROM THE PAST
Label: DARK ESSENCE RECORDS
Spieldauer: 40:00 Minuten
VÖ: 16. Juni 2023
"Don`t wake me up please! Tomorrow is too soon. Don`t flick the light switch! Outside ist to cruel. I want to stay right here in the dark!"
Dieser Textauszug aus `Right Here In The Dark` der Norweger VULTURE INDUSTRIES hört sich nicht nur so an wie ich mich sinngemäß morgens fühle sondern ist vielmehr die Zusammenfassung des Grundthemas des am 16. Juni 2023 erscheinenden neuen Albums "Ghost From The Past". Das Album soll die Angst vor einer Welt die außer Kontrolle gerät und ein Gefühl der Ohnmacht angesichts der auseinanderfallenden Weltordnung widerspiegeln.
Sieben Titel in 40 Minuten umfasst das sechste Avant-Garde Album "Ghost From The Past" das von Tor Helge Gjengedal (Schlagzeug),  Kyrre Teigen (Bass und Gesang),  Øyvind Madsen (Gitarre), Eivind Huse (Gitarre und Gesang) und  Bjørnar Erevik Nilsen (Gesang, Gitarre, Keyboard und Percussion) unter Zuhilfenahme von Hans Marius Andersen für die Trompete und das Saxophon in Bergen astrein eingespielt wurde. Innerhalb von vier Jahren hat man aufmerksam am Album gearbeitet und in dieser Zeit hat man wohl viel Hingabe zum Songwriting und zur Instrumentierung walten lassen ohne dabei den Anspruch zu erheben zu perfekt klingen zu wollen.
Wie hört sich das musikalisch an? Ein Fan beschrieb VULTURE INDUSTRIES mal so: " Es klingt als würde Nick Cave Metal machen". Und da es das am ehesten trifft schließe ich mich da einfach mal an. Ich mag sowohl Nick Cave als auch VULTURE INDUSTRIES, die so nach Neufindung und Umbesetzung seit 2003 unterwegs sind. Eine irre Mischung gibt es aus groovigen Rhythmen, einer nicht handelsüblichen klaren Gesangsstimme, Trompeten und Saxophon in Kombination mit Gitarren, Keyboard und Schlagwerk. Was im gesamten wohl auch etwas wie eine Mischung aus Spaghetti-Western Musik mit einer Prise Enno Morricone und monochromem melancholischen Postpunk klingt, könnte auch gut als Soundtrack in einem Quentin Tarantino Film dienen. Und wie ihr wisst mag ich ja die Mischung aus cool und ein bisschen irre ziemlich gern. Wer dieses Gefühl ebenfalls zuhause oder unterwegs haben möchte: Bitte zugreifen.
Judith Kroll vergibt 8,5 von 10 Punkten