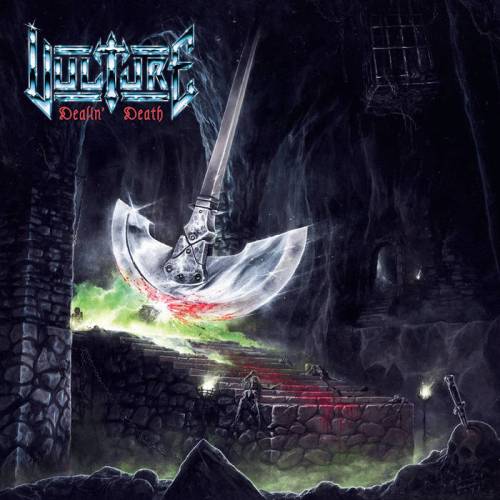 VULTURE
Titel: DEALIN' DEATH
Spieldauer: 42:21 Minuten
Nach einer alten Plattenfirmen-Weisheit ist das dritte Album einer Band die "Make it or Break it" Scheibe. Genau an diesem Punkt sind die Dortmunder Speed/Thrasher mit dem aktuellen Dreher "Dealin' Death" nun angekommen. Und müssen sich VULTURE oder wir uns jetzt Sorgen machen?
Nach der Einfuhr des Drehers kann ich dies ganz klar verneinen. VULTURE sind immer noch VULTURE, klingen aber einen Tacken…ich formuliere es mal so….erwachsener. Sie zocken immer noch Speed Metal mit ner Thrash Kante, vermeiden es aber auf Teufel komm raus ihre unbestreitbare instrumentaltechnische Klasse zu beweisen, sondern stellen dies mehr in den Dienst des jeweiligen Songs. Keine Bange, sie sind dadurch nicht simpel geworden, aber doch etwas eingängiger.
Und mit dem treibenden Banger 'Count Your Blessings', dem sich nach einem aufbauenden Drum Stakkato in einen Mid Tempo Hymne wechselnden 'Gorgon', dem größtenteils im stampfenden Mid Tempo gehaltenen 'Star Crossed City' und den schnellen 'Flee The Phantom' und 'The Court Of Caligula' haben sie auch geile Songs an Bord.
Produktion stimmt, die von der Phrasierung manchmal an Slayer zu 'Show No Mercy' Zeiten erinnernden Vocals sorgen für Schmackes und auch das Pendulum findet wieder Einzug ins Artwork; da können traditionelle Speed Metal Maniacs unbesorgt zu greifen und sich die Platenfirmenleute unbesorgt zurück lehnen.
Ludwig Lücker vergibt 8,5 von 10 Punkten