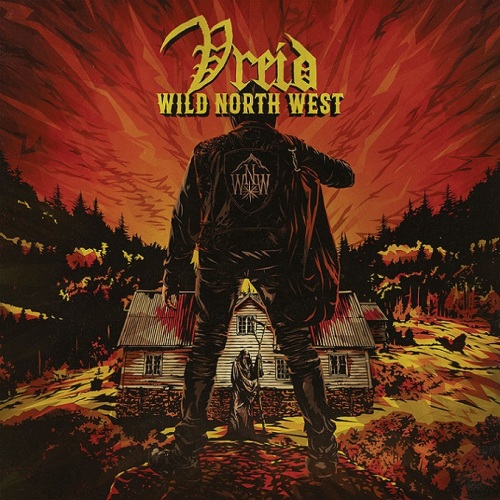 VREID
Titel: WILD NORTH WEST
Spieldauer: 45:57 Minuten
Persönlich bin ich mit dem black'n rolligen "I Krig" auf die Nordländer aus Norwegen aufmerksam geworden. VREID allerdings nur auf das Prädikat Black'n Roll fest zu legen, ist allerdings auch um einiges zu einfach, denn dies war auf den folgenden Alben schon nicht mehr ganz zutreffend.
Auf dem aktuellen, neunten Album "Wild North West" zeigen VREID ein bisher nur ansatzweise erreichtes Level an Abwechslung. Das Werk ist ein Konzeptalbum "über das Leben und dessen Schatten, den Tod", welches die Band auch noch durch zusammenhängende Musikvideos unterstützt. Aber auch ohne die visuelle Unterstützung funktioniert das Album, wobei es so manchen Alt-Fan eventuell schon zu abwechslungsreich ist.
So zeigen Tracks wie 'Wolves At Sea' und 'Spikes Of God' die harsche, schwarz metallische Seite der Band. Der Titeltrack 'Wild North West'  bedient die von mir durchaus geschätzte Black'n Roll Schiene. 'Into The Mountains' ist hingegen für VREID'sche Verhältniss sehr melodisch und 'Dazed And Reduced' wandelt auf den bei vielen Bands mittlerweile so beliebten Gothic Pfaden, die aber auch VREID gut zu Gesicht stehen. 'Shadows Of Aurora' ist hingegen ein abwechslungsreicher Track, der auch traditionelle Metal Elemente einbezieht.
Für mich persönlich funktioniert die Scheibe gut und gefällt mir auch, wobei ich auch die Prognose wage, dass dies nicht bei jedermann aus der Gefolgschaft von VREID so ausfällt.
Ludwig Lücker vergibt 8,5 von 10 Punkten