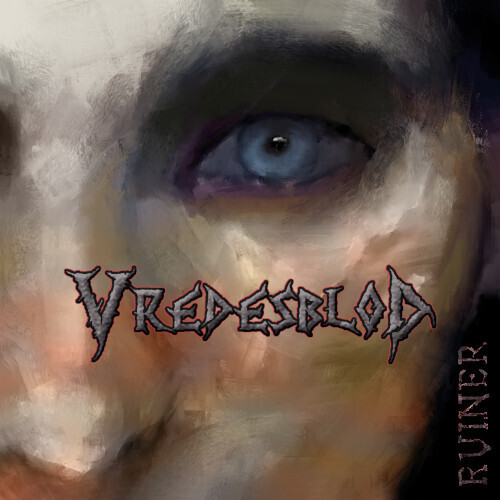 Spieldauer: 42:02 Minuten
VÖ: 2. September 2022
VREDESBLOD sind eine schwedische Band, die erst im letzten Jahr gegründet worden ist. Dies ist aber musikalisch kein Hinderungsgrund für höhere Weihen, denn sämtliche Musiker sind bereits in anderen Bands aktiv gewesen und beileibe keine Anfänger.
So tummelten sich die Mucker von VREDESBLOD bereits bei Bands wie Assassins Blade, Void Moon, Cult Of The Fox und Paganizer.
Wer dieser Aufzählung gefolgt ist, der wird merken, dass es hier doch aus der Historie der Musiker eher traditionell abgehen sollte. Dennoch verschließen sie sich auch nicht völlig einigen moderneren Vibes.
Auffällig ist auch noch die doch wesentliche Tatsache, dass hier mit leicht krächzenden, rauen Vocals auf Schwedisch gesungen wird, und dies auch noch in einem speziellen südlichen Dialekt – sagt zumindest das Infoblatt, mein eigenes Schwedisch ist da eher rudimentär -.
Anyway, dennoch haben VREDESBLOD auch gute Songs vorzuweisen. Da wären dann Tracks wie der fett treibende Banger 'Evigethens Storm', das pumpende 'Ruiner' bei dem die Vocals fast melodisch klingen, das hymnische 'Genom Döda Gudars Ögon', und die schnellen treibenden 'Där Inget Anders', 'Blodshämnd' und das abschließende 'Mörket Sänker Sig Sakta' zu nennen.
Sicherlich bietet "Ruiner" keine Allerweltskost, zusammenfassend kann man den Schweden aber eine interessante Scheibe attestieren, die einigen Unterhaltungswert bietet.
Ludwig Lücker vergibt 7,5 von 10 Punkten