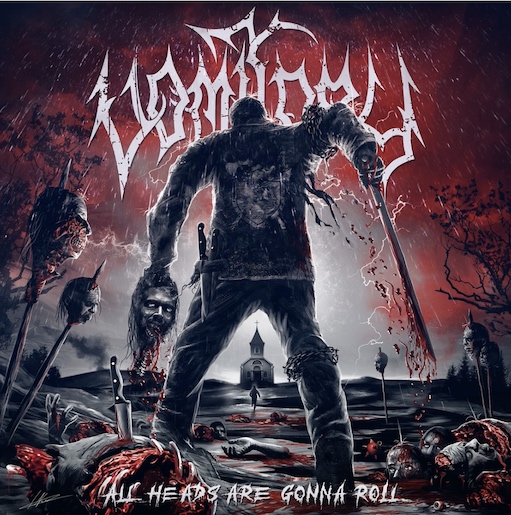 VOMITORY
Titel: ALL HEADS ARE GONNA ROLL
Label: METAL BLADE RECORDS
Spieldauer: 40:45 Minuten
VÖ: 26. Mai 2023
Waren es bei Judas Priest noch einige Köpfe machen bei den Schweden Deathern VOMITORY wohl alle Köpfe mit. "All Heads Are gonna roll" ist das erste Album seit zwölf Jahren und der insgesamt neunte Longplayer der gesamten Bandhistorie. Aktiv – wenn auch mit zwei Unterbrechungen – ist die Truppe bereits seit 1989.
Der Titeltrack macht den Einstieg in die Scheibe und VOMITORY zeigen sich von ihrer gewohnten Seite: brutal, nach vorne und mächtig. Kein Melo-Gedudel, Ambient-Geschwofe oder gar Cleangesang. Sie rödeln sich in bester Old School Manier durch ihre Songs. Der röhrende Gesang von Erik Rundqvist, die mächtigen Gitarrenwände und das präzise Drumming sind Garanten für die herbe Kost, die hier serviert wird. 'Ode to the Meat Saw' kommt in leichter Bolt Thrower Manier daher, 'The Deepest Tomb' packt zwischen die Blastteile ein thrashiges Nackenbrecherbreak vom allergemeinsten. Auch die Käng-Gemeinde kommt bei 'Raped, Strangled, Sodomized' auf ihre Kosten und VOMITORY lassen die so wichtigen Hardcore Einflüsse für den schwedischen Death Metal deutlich werden. Bei 'Disciples of the Damned' fahren sie teilweise solch eine aberwitzige Geschwindigkeit auf, dass einem glatt die Spucke wegbleibt. Insgesamt weist die Platte vier bis fünf over the top Hits auf neben dem gutklassigen Rest. Ehrlich und auch authentisch produziert ist die Langrille der Schweden auch noch und verzichtet auf  Klickerdrums oder sonstigen meist deplatzierten Firlefanz.
VOMITORY überzeugen hier auf ganzer Linie. Roh, mit Übersicht und mit ordentlichem Druck kommen sie daher. Eine klasse Rückkehrscheibe der Bande aus Karlstad! Fans der Band: Bitte greifen Sie zu!
Ingo Holzhäuser vergibt 8,5 von 10 Punkten