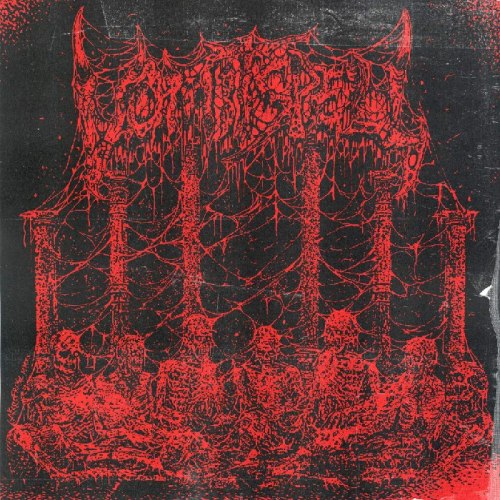 VOMIT SPELL
Titel: VOMIT SPELL
Spieldauer: 34:13 Minuten
FDA Records hatten schon das unglaublich kreativ "Demo" betitelte Demo der Mainzer Death Metaller von VOMIT SPELL veröffentlicht, welches mir durch die Mischung von Death Metal, Grindcore und räudigen Punk Einflüssen gut gefiel.
Nun folgt der erste komplette Dreher über die lange Distanz, unglaublicher Weise überaus kreativ "Vomit Spell" betitelt. Egal, die Mucke zählt schließlich und die ist bei den Jungs gleich geblieben. Der räudige Punk Einfluß ist zwar etwas in den Hintergrund getreten und der Grindcore Einfluß hat zu genommen, aber wer sich gepflegt einmal die Fresse polieren lassen möchte, der sollte sich einmal Tracks wie den alle Tempi durch zockenden Opener 'Carnage At The Morgue', den pumpenden Speedster 'Axiom Of Annihilation' oder den nach schleppenden Einstieg zwischen pumpenden Groove und wechselnden Track ''Disincarnate' rein pfeifen.
Für Fans von Carcass oder Repulsion gibt es hier jedenfalls adäquates Futter. Ich persönlich fand das Demo allerdings noch einen kleinen Tacken besser… anyway, ne ordentliche Death Metal Scheibe ist VOMIT SPELL jedenfalls gelungen.
Beim nächsten Mal vielleicht etwas mehr Kreativität bei dem Titel…….
Ludwig Lücker vergibt 7,5 von 10 Punkten