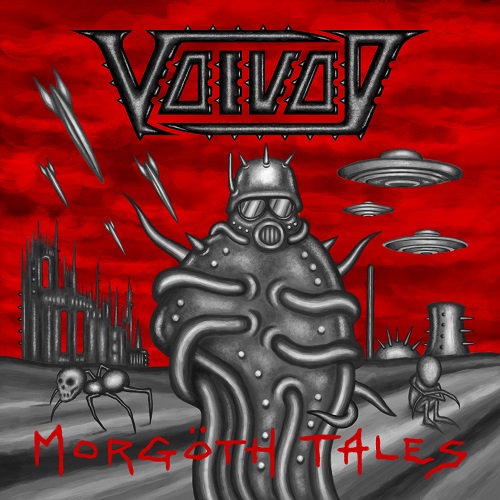 VOIVOD
Titel: Morgöth Tales
Label: CENTURY MEDIA RECORDS
Spieldauer: 48:00 Minuten
VÖ: 21. Juli 2023
Mit dem zum 40 jährigen Bandjubiläum erscheinenden "Morgöth Tales" nehmen die kanadischen Sci-Fi-Thrasher VOIVOD Euch mit auf eine Zeitreise der besonderen Art. Neun Titel haben die Herren aus ihrem wahrhaftig vielschichtigen Repertoire aus den Jahren 1984 bis 2003 für "Morgöth Tales" wirklich interessant zusammengestellt und neu eingespielt.
Ausgewählt wurden in dieser Reihenfolge aus den Jahren
1984 `Condemned To The Gallos` (Original auf der "Metal Massacre V Compilation")
1986 `Thrashing Rage` (Original auf "Rrröööaaarrr")
1987 `Killing Technology` (Original auf "Killing Technology")
1988 `Macrosolutions To Megaproblems` (Original auf "Dimension Hatröss")
1989 `Pre-Ignition` (Original auf "Nothingface")
1991 `Angel Rat` (Original auf "Angel Rat")
1993 `Fix My Heart`(Original auf "Outer Limits")
1997 `Rise` (feat. Eric Forrest) (Original auf "Phobos")
2003 `Rebel Robot` (feat. Jason Newsted) (Original auf "Voivod")
Als Bonus gibt es den Titel Track `Morgöth Tales`, der 2022 im Tourbus und in Hotels das Licht der Welt erblickt hat, obenauf.
Aufgenommen und gemischt von Francis Perron, gemastert von Maor Appelbaum und produziert von VOIVOD selbst ergibt sich eine stimmige Gesamtproduktion auf dem zu erkennen ist was die bisherige Reise zwischen Thrash-Punk über Prog-Metal von VOIVOD ausmacht: Metal immer wieder neu und von grandiosen Musikern anders interpretiert während man sich trotzdem irgendwie treu bleibt. Das Schaffenszeugnis wird es als CD und digitales Album mit dem Bonus Track "Home" geben. Außerdem wird "Morgöth Tales" auf Vinyl in schwarz, weiß (800x), grün (300x) und rot (300) erhältlich sein.  Es heißt also: All systems go!
Judith Kroll vergibt 8,5 von 10 Punkten