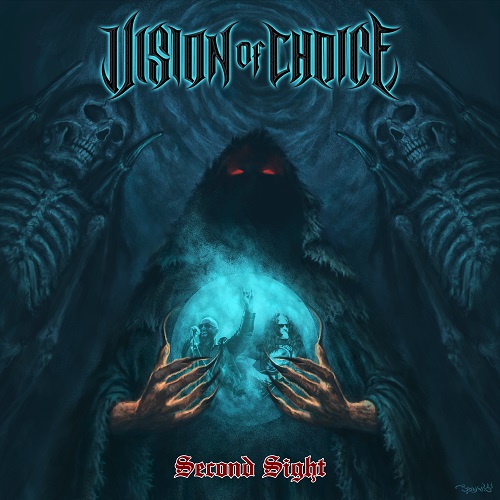 VISION OF CHOICE
Titel: SECOND SIGHT
Label: FENCESOUND MUSIC/ZOUNDR
Spieldauer: 45:44 Minuten
VÖ: 17. Februar 2023
Der Februar scheint der Monat der Zweitwerke zu sein, denn auch "Second Sight" ist das Folgealbum der deutschen Metaller VISION OF CHOICE, welche 2018 von Multiinstrumentalist/Komponist Steve Brockmann (Krilloan, Airs – A Rock Opera) und Sänger Lukas Remus (Epilirium, Rigorious) ins Leben gerufen wurden.
"Inspiriert von Genreklassikern wie Judas Priest, Iron Maiden, Pretty Maids, Omen und Malice (um nur einige zu nennen)" wurde Anfang 2020 in Eigenregie das Debütalbum "Mistress of the Gods" herausgebracht und wenig später das Trio mit dem indonesischen Gitarristen Ponch Satrio komplett gemacht.
Die zehn Songs des Zweitlings bieten einen frischen, zeitgemäßen Sound in der Schnittmenge von traditionellem, melodischen Heavy Metal und Hardrockeinflüssen, garniert von Remus´ kraft- und druckvollem Bariton.
Heraus kommt ein kurzweiliger Zehnerpack mitreißender, abwechslungsreicher Tracks mit grandiosen Vocals, krachenden Riffs und packenden Soli. Gerne mehr davon!
Anspieltipps: das treibende `Eyes Of Freedom´, der Ohrwurm `Demonize´, das eingängige `To Zero´ und das hymnische, abschließende `Forever The Heroes´.
Michael Gaspar vergibt 7,5 von 10 Punkten