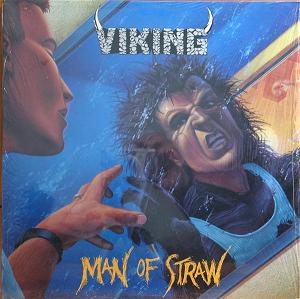 VIKING
Titel: MAN OF STRAW
Spieldauer: 46:47 Minuten
Nach dem Re-Release des Debüts der kalifornischen Thrasher von VIKING legen High Roller nach. Auch das Zweitwerk der Jungs aus Los Angeles "Man Of Strw" erlebt eine Wiederveröffentlichung.
Geschwindigkeitstechnisch ist die Scheibe immer noch auf einem recht hohen Level, die Jungs haben sich gegenüber dem Debüt aber nochmals gesteigert und variieren die Mucke durch diverse Tempiwechsel und Breaks. Des Öfteren erinnern sie mich dabei an die Arizona Legende von Sacred Reich.
Man muss VIKING einfach attestieren, dass bei Tracks wie dem Opener 'White Death' mit seinem größtenteils hohen Tempo, dem Speedster 'Twilight Fate' – übrigens mit einem recht nervösen Solo -, dem hauptsächlich im Mid Tempo gehaltenen 'Winter' und den beiden schnellen 'Creative Divorce' und 'Man Of Straw' die Post richtig abgeht und die Mucke einen enormen Spass macht. Ähnlich wie Sacred Reich schauen auch VIKING mal über den Tellerrand und präsentieren eine starke Version von Pat Benatars 'Hell Is Für Children'.
Auch die Produktion hat sich gegenüber dem Debüt verbessert und ist um einiges differenzierter ausgefallen. "Man Of Straw" kann ich jedem Thrasher respektive Speed Metaller ans Herz legen. Der Re-Release hat allerdings keinerlei Bonus Material auf zu weisen….schade.
Ludwig Lücker vergibt 8,5 von 10 Punkten