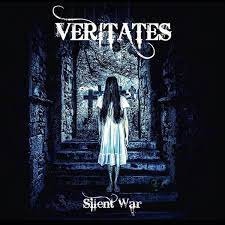 VERITATES
Titel: SILENT WAR
Spieldauer: 59:50 Minuten
VÖ: 16.09.2022
Nach den hervorragenden Releases von Gutter Creek und Ty Morn zu Beginn des Jahres holt Doc Gator Records heuer abermals zu einem zünftigen Doppelschlag aus. Neben Ghosther, die an anderer Stelle rezensiert werden, veröffentlichen im September auch VERITATES ihr zweites Album "Silent War" und übertreffen ihr tolles Debüt "Killing Time" von vor zwei Jahren damit nochmals klar.
Während der Erstling viel älteres Material von Mastermind und Gitarrist Thomas Winter enthielt, entstanden die neuen Songs von Beginn an in enger Zusammenarbeit mit Sänger Andreas 'Lippi' v. Lipinski. Dabei haben die beiden sich offensichtlich gegenseitig zu Höchstleistungen angestachelt, denn "Silent War" ist ein kleines Meisterwerk in der Schnittmenge von Iron Maiden und Iced Earth geworden, nach dem sich der qualitätsbewusste Trad-Metaller die Finger lecken wird.
Von treibenden Headbangern wie 'For My Thoughts' oder 'My Own Way', über Powerballaden wie 'Alone' und 'Mirror', bis hin zu epischen Longtracks wie 'Evil' (Kein Mercyful Fate Cover!) oder 'Psychologist Of The Dead' wird hier alles geboten, was das Metallerherz begehrt und mehr! Neuzugang Frank J. Noras, der mit Lippi seit Jahrzehnten bei Wolfen und neuerdings bei Warwolf musiziert, steuert die passenden Leads zu Winter Toms Killerriffs bei und kein Geringerer als Chris Boltenthal von Grave Digger zeichnet für den fetten Sound verantwortlich.
Also worauf wartet Ihr noch? Sowohl CD als auch Vinyl sind hier erhältlich: https://www.docgatorshop.com/.
Alex Fähnrich vergibt 9 von 10 Punkten