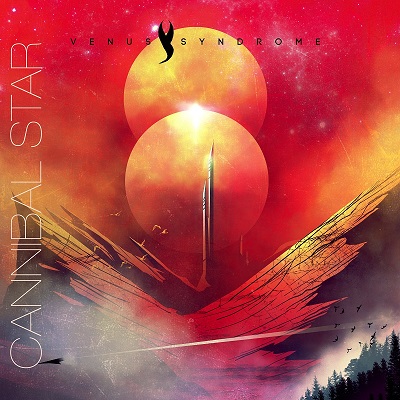 VENUS SYNDROME
Titel: CANNIBAL STAR
Spieldauer: 46:10 Minuten
Das französisch-brasilianische Quintett rund um den Komponisten und Gitarristen Ayman Mokdad legt mit "Cannibal Star" seinen Zweitling nach dem selbstbetitelten Debüt (2020) vor. Der Bandname VENUS SYNDROME wie auch das Konzept und der textliche Inhalt des Debüts stehen dabei für den für die Venus typischen "galoppierenden Treibhauseffekt", der von der Wissenschaft für die Erde (noch) ausgeschlossen wird.
Der internationale Fünfer macht technisch hochwertigen Prog mit harten Riffs und Rhythmen sowie variablen, durch Größen wie Russell Allen (Symphony X), Warrel Dane (Nevermore) and Ray Adler (Fates Warning) beeinflussten Vocals von Fronter Emmanuelson. Hinzu kommen packende Leads, wahnwitzige Soli und fesselnde Pianoparts.
Das Ganze wird von einem Intro, dem im abschließenden (nebenbei: grandiosen) Track 'Contaminate Me' enthaltenen Outro und dem instrumentalen Titelsong und Zwischenspiel eingerahmt. Der somit Quasi-Opener 'Sideral Groove' ist sowohl musikalisch, als auch durch den inspirierenden Text über die Liebe zur Musik ein erster Volltreffer.
Dieser wird mit der zweiten Vorabsingle 'Sun Inside Me' direkt von einem weiteren Highlight gefolgt, dem auch das hymnische 'Empire Of The End' in rein gar nichts nachsteht. Mit dem eingängigen 'Breaking The Black Stars' und dem fantastischen 'Tunnel Of Light' gelingt es VENUS SYNDROME weitere Glanzpunkte zu setzen.
Eine hochklassige Scheibe, die aufgrund einiger kleinerer Längen und teilweise ein wenig anstrengender Pianoteile, zwar nicht ganz an die diesjährigen Glanztaten anderer Genrekollegen herankommt, sich aber auch wirklich nicht hinter diesen verstecken muss. Fans von Dream Theater, Pagan's Mind, Sons of Apollo, Haken, Symphony X und King's X sollten unbedingt mal reinhören.
Michael Gaspar vergibt 8 von 10 Punkten