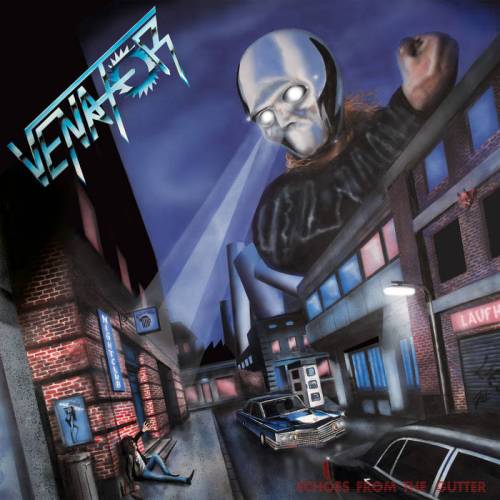 VENATOR
Titel: ECHOES FROM THE GUTTER
Label: DYING VICTIMS PRODUCTION
Spieldauer: 46:02 Minuten
VÖ: 25. Februar 2022
VENATOR, die Jungs aus unserem südlichen Nachbarland Österreich, um genau zu sein aus Linz, kredenzen uns hier mit ihrem Debüt-Langeisen – vorher gab es lediglich eine EP, eine Single und eine Split – eine Scheibe, die mir richtig gut gefällt.
Basierend auf einem Grundgerüst namens traditioneller Heavy Metal verstehen es VENATOR bei ihrer Mucke die notwendige Härte mit einem guten Gespür für Melodien zu kombinieren, was auch durch die melodischen Vocals von Fronter Johannes Hümer noch einmal verstärkt wird. Auch für hymnische Momente sind die Linzer gewappnet.
Bei Tracks wie dem nach einem rockigen Einstieg zum Speedster werdenden Opener 'Howl At The Rain', dem teils hymnischen 'Red And Black', dem nach ruhigen Einstieg abgehenden 'Nightrider' mit seinem hymnisch, melodischen Refrain, dem abwechslungsreichen 'Made Of Light', dem melodischen, an beste High Spirits Momente erinnernden 'The Rising' und dem flotten Rocker 'The Hexx' hat man als Metal Fan eigentlich keine Gründe "Echoes From The Gutter" nicht zu mögen.
Die Jungs erinnern mich an eine coole Mischung aus Metal Inquisitor und rockigen High Spirits, garniert mit 'nem Schuss Priest und New Wave of british Heavy Metal . Wer sich das vorstellen kann…..unbedingt checken!
VENATOR sind für mich schon früh im Jahr ein Anwärter auf die Position Newcomer des Jahres.
Ludwig Lücker vergibt 9 von 10 Punkten