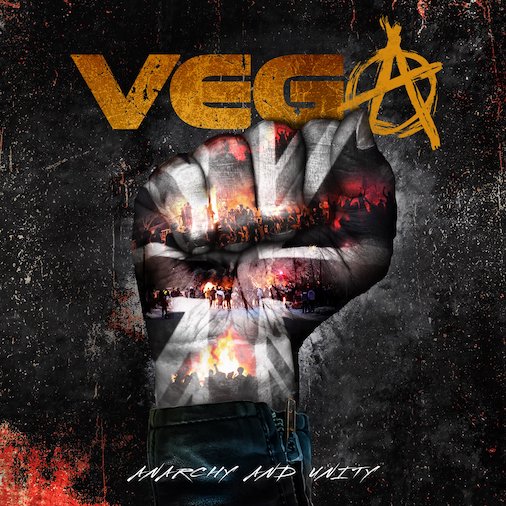 VEGA
Titel: ANARCHY AND UNITY
Spieldauer: 48:37 Minuten
Die UK-AOR/Hard Rocker VEGA kehren mit ihrem siebten Album seit der Bandgründung 2009 auf die Bildfläche zurück. Mit dem zweiten Gitarristen Billy Taylor (Ex-Inglorious) und Drummer Pete Newdeck (Nitrate, Midnite City) sind gegenüber der letzten Scheibe erstmals zwei neue Mitglieder auf "Anarchy And Unity" zu hören.
Der Hard Rock des Quintetts ist gekennzeichnet durch schöne Melodien, packende Twin Leads, gute Backing Vocals und Chöre sowie gar nicht mal so zurückhaltendes, knackiges Riffing. Die unverwechselbare, ausdrucksstarke Stimme von Frontmann Nick Workman, ein Haufen hymnische Refrains und mindestens ebenso viele griffige Gitarrensoli tun ihr Übriges zu einem ge- und erwachsenen Stil, der trotzdem frisch und modern daherkommt.
Der dynamische Opener 'Beautiful Lie' legt die Latte schon ziemlich hoch, wird aber vom folgenden, bärenstarken 'Sooner Or Later' locker nochmal getoppt. Egal ob eher in AOR-Gefilden wie beim grandiosen 'Kneel To You' oder hymnisch wie in 'Welcome to Wherever' oder gar schnell und beinahe ein bisschen punkig wie bei 'Bring The Riot': es jagt ein Highlight das andere.
Besonders die Ballade 'Live For Me' gefällt mit Gitarren und Piano-Part, aufgehendem, bombastischen Chorus und schnellem Solo. Weitere Glanzpunkte sind 'Glow' und das abschließende emotionale und halb-balladeske '2Die4'.
Insgesamt eine bockstarke Melodic Rock Scheibe ohne Schwachpunkte und mit guten Songs sowie genügend Abwechslung und einem herausragenden Sänger am Mikro.
Michael Gaspar vergibt 8 von 10 Punkten