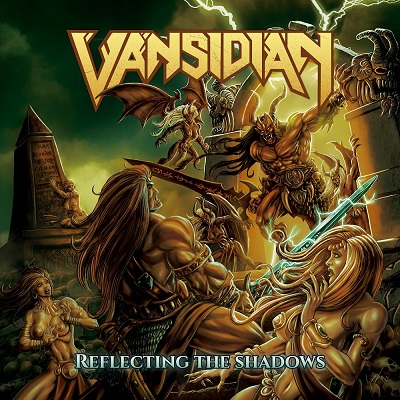 VANSIDIAN
Titel: REFLECTING THE SHADOWS
Spieldauer: 51:21 Minuten
VÖ: 19. Mai 2023
Die finnischen Hybrid Metaller VANSIDIAN präsentieren ihre Debütscheibe "Reflecting The Shadows". Und ich muss zugeben, dass ich mit diesem Begriff zunächst nicht viel anzufangen wusste.
Das Quartett verbindet 80er Old School Heavy Metal mit frühem Melodic Death zu einer einzigartigen Mischung moderner Metalmusik. Darüber hinaus wird ein großes Spektrum weiterer Einflüsse und Metal Subgenres verarbeitet.
Hier lohnt es sich oft, genau hinzuhören und dem Silberling die ein oder andere Umdrehung zu genehmigen, denn oft steckt der Teufel auch hier im Detail und die ein oder andere Wendung und das ein oder andere Element geht dem Hörer durch zu wenig Aufmerksamtkeit.
Die Songs sind ebenso aggressiv wie melodisch, gleichsam eingängig sowie hart und modern. Angeschwärzte Growls treffen auf melodische Leads, traditioneller Metal auf Melodic Death Attacken, eingängige Refrains auf pure Aggression. Und so folgt auch mal ein Breakdown auf ein klassisches Gitarrensolo.
Die düsteren lyrischen Themen drehen sich um den epischen inneren Kampf mit den eigenen Dämonen, Gut und Böse, Licht und Dunkelheit, Selbstakzeptanz, Narzissmus und die Gefangenschaft in den eigenen Lügen, gespiegelt im Kopf des Protagonisten, eingeflüstert von Spiegelbildern, Gesichtern und Schatten.
Anspieltipps: der dynamische Opener `Dive´ und die beiden über acht Minuten langen Epen `Reflecting The Shadows´ und die großartige Vorabauskopplung `Stormweaver´.
Michael Gaspar vergibt 8 von 10 Punkten