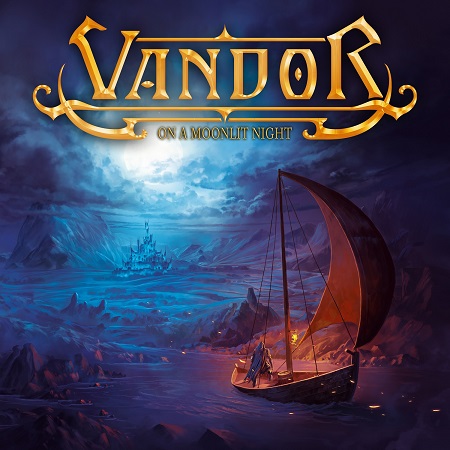 VANDOR
Titel: ON A MOONLIT NIGHT
Spieldauer: 55:33 Minuten
Europäischen, melodischen Power Metal verbinden VANDOR auf ihrem Zweitling "On A Moonlit Night" mit leichten Hard Rock-Einflüssen und umfangreichen Prog Rock-Elementen. Der Sound des schwedischen Vierers klingt dabei ausgereifter und progressiver als auf dem Debüt "In The Land Of Vandor" (2019). Dabei braucht die Scheibe einige Durchläufe, beim ersten Anhören fand ich sie ziemlich gruselig, was sich in großen Teilen später fundamental ändern sollte.
Nach einem sehr kurzen Intro legt die Band los wie die Power Metal-Feuerwehr und knallt dem Hörer drei Volltreffer hintereinander in die Lauscher. Tolle Melodien treffen auf Knaller-Refrains und das kraftvolle, facettenreiche Organ von Frontmann Vide Bjerde. Und immer wieder werden bei hoher Geschwindigkeit proggige Instrumentalpassagen und Soli eingeflochten, manchmal aber auch das Bremspedal gedrückt, was einiges an Dynamik erzeugt. Lange nicht mehr so guten und vor allem songdienlichen Keyboard-Einsatz gehört wie beispielsweise in 'Mountains Of Avagale' und besonders der packende Chorus von 'Endless Sea' sticht heraus.
Leider folgen dann mit der Ballade 'Future To Behold' und dem verzichtbaren 'Fate Of Eltoria' zwei eher schwache Tracks und auch der lahme Titelsong kann das anfängliche Niveau nicht halten. Dazwischen tummelt sich allerdings neben dem fulminanten Beginn das wahre Highlight dieser Scheibe in Form des monumentalen, über siebzehn Minuten langen kleinen Meisterwerks 'The Sword To End All Wars'.
Power Metal meets Prog während viele Tempi-, Lautstärke und Intensitätswechsel für viel Spannung und Energie sorgen. Auch Sänger Bjerde wächst nochmals über sich hinaus und präsentiert weitere Facetten seiner Stimme und eine noch breitere Range. Während Gitarre und Keyboards bereits anfangs ihre Momente haben und nun erneut glänzen dürfen, haben gegen Mitte des Tracks insbesondere Bass und Schlagzeug Gelegenheit sich mal so richtig auszutoben, bevor das Ganze in opulenten Chören und einem epischen Ende gipfelt.
Insgesamt ist der Silberling also eine nicht durchweg überzeugende Geschichte mit den erwähnten Durchhängern. Mit mehr Songs von der Qualität des anfänglichen Dreierpacks oder des fulminanten Long-Tracks wäre eine noch deutlich höhere Bewertung möglich gewesen.
Michael Gaspar vergibt 7,5 von 10 Punkten