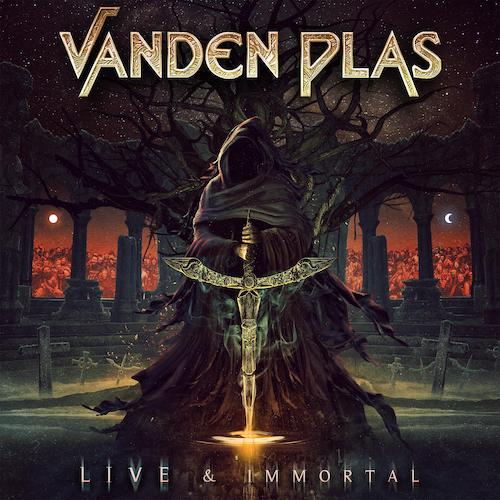 VANDEN PLAS
Titel: LIVE & IMMORTAL
Spieldauer: 100:50 Minuten
VÖ: 12. August 2022
Die deutschen Prog Metal Meister VANDEN PLAS veröffentlichen nach "The Seraphic Live Works", der Mitschnitt eines Auftritts vom ProgPower USA Festival 2011, ein weiteres Livedokument, welches am 30.12.2016 beim Konzert und Heimspiel der Band in Kaiserslautern aufgenommen wurde.
Und bei "Live & Immortal" handelt es sich – das muss man im Zeitalter der Streamingevents leider erwähnen – um eine "echte" Liveplatte, so dass es sowohl Ansagen als auch jede Menge Publikumsreaktionen zu hören gibt. Es wird vor-, mit- und nachgeklatscht sowie mitgesungen, was das Zeug hält.
Der Großteil der Setlist stammt von den beiden "Chronicles Of The Immortals" Alben (2013 und 2014) und beinhaltet zusätzlich wenig bzw. noch gar nicht live performte Tracks wie das atmosphärische `Scarlet Flower Fields´ und das 11-Minuten-Monster `The Final Murder´.
Die Hörer können sich aber auch auf Fanfavoriten wie `Holes In The Sky´, `Iodic Rain´, `Postcard To God´ und `Christ 0` freuen. Als weitere Anspieltipps für ein erstes oder kurzes Reinhören sei die intensive Mitsingorgie `How Many Tears´ und das grandiose, vorab veröffentlichte `Godmaker´ empfohlen.
Hier sind echte musikalische Asse am Werk, welchen es scheinbar spielerisch gelingt, die ambitionierten, progressiven und teilweise überlangen Kompositionen auch live gekonnt, fehlerfrei und energetisch umzusetzen.
Insbesondere die Vokal- und Keyboardkünste stechen heraus und werden durch die klare, einwandfreie Produktion perfekt übertragen. Und auch die Schlagzeugarbeit beeindruckt und ist differenziert herauszuhören.
Das versiert eingefangene Livefeeling, eine gut aufgelegte, spielfreudige Band, die packende Songauswahl und das begeisterte Publikum tun ihr Übriges zu einem gelungenen Konzerterlebnis.
Fazit: Klasse Livescheibe mit anspruchsvoller, perfekt dargebotener Musik, guter Atmosphäre und fettem Sound!
Michael Gaspar vergibt 8 von 10 Punkten