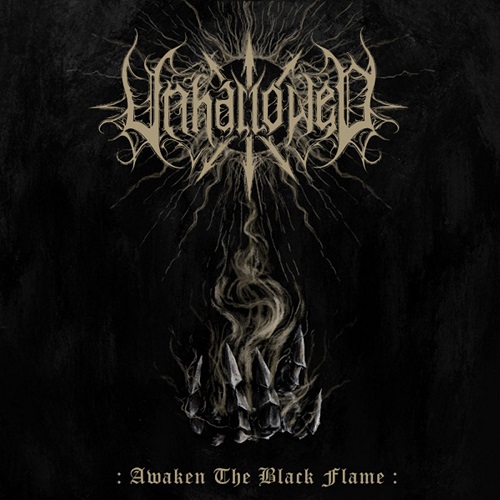 UNHALLOWED
Titel: AWAKEN THE BLACK FLAME
Spieldauer: 37:20 Minuten
VÖ: 14. April 2023
Aus den Tiefen des Black Metal Undergrounds züngelt seit 2021 ein schwarzes Flämmchen, das am 14. April 2023 als eine schwarze Flamme erwachen sollte. Dann nämlich veröffentlichten UNHALLOWED ihr Debütalbum "Awaken The Black Flame" bei Folter Records. Aufgenommen wurde das Album, das es als CD und als digitalen Download zu kaufen gibt, im Jahr 2022, gemischt und gemastert wurde es von Marcin Rybicki / Left Hand Sounds. Das Coverartwork stammt von Vhan Artworks and Printing und das Design von Lethian Art. "Awaken The Black Flame" enthält sechs Songs, verteilt auf eine Spielzeit von 37:20 Minuten. Thematisch geht es auf dem Silberling um das persönliche Streben nach spiritueller Erkenntnis, die weit über die kosmische Realität hinausgeht.
Wir starten ins schwarzmetallische Vergnügen mit ´Awaken The Black Flame´, dass an den skandinavischen Black Metal der späten 1990er Jahre erinnert. ´We Shall Reap´ zeichnet ein Bild der Düsternis, in dem eine Prophezeiung wahr wird und alles Leben aberntet. Herrlich düster und böse! Intensive Lyrics und schicke. pechschwarze instrumentale Passagen warten in ´Toward The Abyss´ auf den Hörer, über ´Black-Winged Lord´, dass ein geniales Opening hat, und das wütende, ordentlich ballernde ´Child Of Wrath´ geht's zum düsteren Finale ´The Firecrowned´.
Der deutsche Black Metal hat eine neue aufstrebende Band in UNHALLOWED, die ein Debütwerk hinlegen, das für jeden Anhänger des nordisch-aggressiven Schwarzstahls ein Pflichkauf ist. Wo mir in anderen Werken die Vocals ein bisschen an den Nerven sägen, kann ich hier nicht meckern. Auch die Songlänge ist vollkommen in Ordnung, denn die Tracks auf "Awaken The Black Flame" benötigen die Zeit, um sich zu entfalten. Neben den aggressiven Parts liefern UNHALLOWED auch melodische Passagen, was das Hörerlebnis auch für Fans des Melodic Black Metal interessant macht.
Tobi Stahl vergibt 8 von 10 Punkten