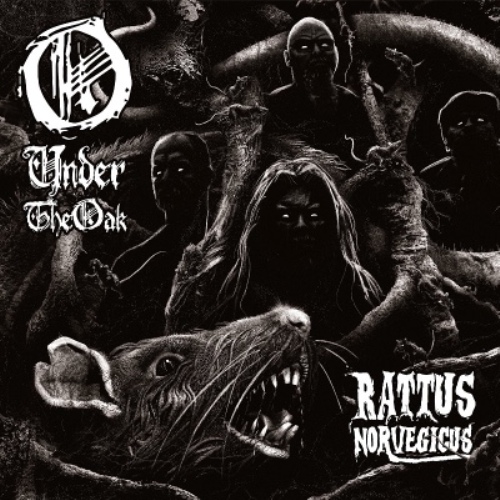 UNDER THE OAK
Titel: RATTUS NORVEGICUS
Spieldauer: 55:19 Minuten
VÖ: 2. September 2022
Der Blick aufs Cover-Artwork lässt mich zunächst in Bezug auf die Musik etwas ratlos schauen. Der Vierer stammt zwar aus Norwegen, aber weder der Titel noch das Artwork lassen auf das schliessen, was dann an Musik aus den Boxen klingt.
Nix Norwegen, Nix Black…..nein hier klingt alles nach U.S. amerikanischen Thrash Stahl. Wenn ich bekannte Bands als Referenz angeben müsste, würde ich als erstes einmal Metal Church nennen, was auch auf den guten Sänger zurück zu führen ist, gefolgt von einer kleinen Prise Overkill.
Und diese Mischung gelingt UNDER THE OAK wirklich gut, was man den Songs dann auch anhört.
Das schnelle, das Langeisen eröffnende 'Total Thrash Metal' zeigt gleich, was die Jungs können. Und auch das schwer an Metal Church erinnernde 'Walls Of Pain', das hymnische, zwischen schleppend und Up Tempo wechselnde 'Loyal To The Core' – hier erinnert nicht nur der Song-Titel an Overkill – und der hymnische Up Tempo Banger 'Pandemic' bieten vorzüglichen Stahl U.S. amerikanischer Prägung.
Hinzu kommen noch zwei gelungene Coverversionen von Tank und Destruction – und bei Tank bin ich normalerweise ziemlich eigen, zumindest was die originalen mit Algy betrifft -.
Fazit: Fans der genannten beiden Kapellen sollten mal trotz des Artworks mindestens ein Ohr riskieren.
Ludwig Lücker vergibt 8 von 10 Punkten