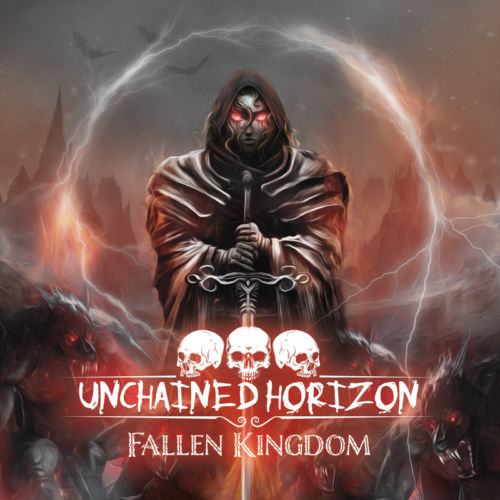 UNCHAINED HORIZON
Titel: FALLEN KINGDOM
Spieldauer: 39:21 Minuten
VÖ: 30. September 2022
Der erste Longplayer der Wilhelmshavener Kapelle UNCHAINED HORIZON ist bereits vor fünf Jahren erschienen und enthielt musikalisch noch eine Mischung aus Heavy, Thrash und Metalcore.
Dies hat man nun grundlegend geändert. Es gibt mehr epischen Metal, Einflüsse der New Wave of British Heavy Metal und dezente Prog Rock Einflüsse, hauptsächlich in Form von ruhigeren Song Intros…..genau genommen, einfach mehr jüngere Iron Maiden Einflüsse.
Dies wird zudem munter verstärkt durch die Tatsache, dass Sänger Sascha Heese stimmlich ebenfalls an besagten Bruce Bruce erinnert.
Das verdient zwar nicht unbedingt einen Preis für Originalität, gute Songs präsentieren die Nordlichter dennoch.
Erwähnenswert sind hier definitiv das abwechslungsreiche, Maiden-eske 'Beneath The Ice' mit seinem Wechsel zwischen treibenden Up Tempo und hymnischen Mid Tempo inklusive dem zwingend notwendigen Hohoho Chor, das epische, im Galoppel Mid Tempo vorgetragene 'The Marksman' und der nach groovig rockigen Einstieg mit Tribal Drums und hymnischen Momenten ausgestattete Titeltrack 'Fallen Kingdom', welchrs zur Abwechslung einen Wohoho Chorus hat.
Metaller welche die letzten  Maiden Werke mochten können hier getrost zu greifen, denn UNCHAINED HORIZON sind eine qualitativ hochwertige Ersatzdroge.
Ludwig Lücker vergibt 8 von 10 Punkten