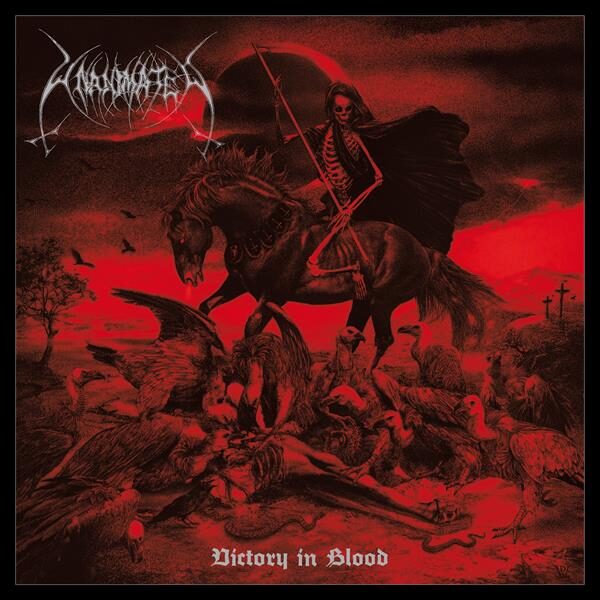 UNANIMATED
Titel: VICTORY IN BLOOD
Spieldauer: 47:06 Minuten
Einen solchen Genreklassiker wie "Ancient God of Evil" (1995) im Backkatalog zu führen ist Fluch und Segen zugleich. Jede weitere Veröffentlichung wird daran gemessen werden – egal ob man das möchte oder nicht. Auch das neueste Album von UNANIMATED und gleichzeitig erst vierte LP-Veröffentlichung der Bandgeschichte wird sich dieser Herausforderung stellen müssen.
Nach dem letzten Album von 2009 haben sich die schwedischen Black/Deather wieder ordentlich Zeit gelassen um den neues Output "Victory in Blood" zu kreieren. Doch UNANIMATED haben ihr Handwerk und das Gespür für melodische und düstere Epen in der unheiligen Zone zwischen Death und Black Metal nicht verlernt. Ich bin sogar geneigt zu sagen, dass es aufgrund der langen Pausen zwischen den Alben durchaus spannender ist sich eine neue Platte anzuhören.
Ähnlich wie bei den Genrekollegen und Landsleuten von Necrophobic und Naglfar werden düstere und teilweise recht flotte Black/Death Tracks abgefeuert ('The Devil rides out' oder 'Scepter of Vengeance'). Dazu kommen hymnische Stampfer mit allerhand unterschwelligen und unheilvollen Melodiebögen sowie klassischen Metal-Zitaten. Sie tragen ganz wesentlich zu dieser durchaus gelungenen Platte bei. Zusätzliche Akustikinterludien ('With a Cold embrace', 'Chaos Ascends') untermalen die Stimmung. Damit offenbaren sie die verletzliche und spirituelle Seite der Scheibe. Im Vergleich zu den oben genannten Bands werden deren zuletzt veröffentlichten Platten deutlich übertrumpft. Und das mit dem Hinweis, dass "Ancient God of Evil" hier nicht in meinem Hinterkopf herumschwirrte.
Fazit: UNANIMATED zeigen immer noch wo der Hammer hängt. Auch wenn die ein oder andere Länge im Album vorhanden ist und man die Frederick Folklare Produktion (u.a. Necrophobic) durchaus raushört – was mich aber nicht extrem stört. Ein unheiliger Gruß aus Schweden in der Vorweihnachtszeit. Und mit 'Demon Pact (Mysterium Tremendum)' hat man auch noch einen der stärksten Tracks der Bandgeschichte mit im Gepäck. Ich würde die Platte kaufen.
Ingo Holzhäuser vergibt 9 von 10 Punkten