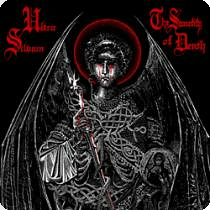 ULTRA SILVAM
Titel: THE SANCTITY OF DEATH
Spieldauer: 32:32 Minuten
Da brät mir gerade einer den Storch in der Pfanne verrückt. Die Urwüchsigkeit des schwedischen Black Metals oder sagen wir: deren finstere Brut – ist zurück. Nein, nicht Nifelheim, sondern ULTRA SILVAM. Schon das tiefschwarze Debüt hinterließ bei mir Verletzungen einer Morgul-Klinge.
Mit "The Sanctity of Death" dürfen wir den würdigen Nachfolger bestaunen. Und dieser schwarze Brocken bietet die bekannten Trademarks des starken Debüts, offenbart aber dennoch einige klangliche Erweiterungen. Dazu gehört die deutlich elaborierte und betonte Speed Metal Schlagseite, genauso wie der Einsatz von Gesangsvariationen wie im Opener 'Dies Irae' oder sogar Chöre wie beim irren Titeltrack. Dieser alleinig stellt in Punkto Verrücktheit den überambinitionierten Ansatz der neuen Wiegedood locker in den Schatten. Wild ist das Eine – Schwärze das Andere.
Sogar eine akustische Auflockerung hat sich auf die Scheibe von ULTRA SILVAM mogeln können. Neben flirrend, kalten, meist pfeilschnellen Black Metal kommen Tracks wie 'Förintelsens andeväsen del II: Den deicidala transsubstantiationens mysterium'  oder der Abschlusssong 'Of Molded Bread and Rotten Wine' fast hymnisch und episch ums Eck. Großartige Tonkunst. Endlich mal nicht hip, atmospheric, ambient oder sonst wie sondern einfach mal Metal! Danke ULTRA SILVAM!
Zusammenfassung und Siegerehrung: War das Debüt noch ein ultra-kurzer Rausch ist der Nachfolger zumindest ein kurzer und pointierter Rausch mit reichlich gutem Stoff. ULTRA SILVAM zeigen, dass klassischer Black Metal auch noch erweiterbar ist und nicht im Schrammelgitarren-Sound polnischer Provinienz versauern muss,  sprudelhaften Keyboard-Samtteppichen oder Folkrock-Opern zum Opfer fallen muss, wo CCR locker mehr Dampf in den Nüssen hatten. Tack så mycket!
Ingo Holzhäuser vergibt 9,5 von 10 Punkten