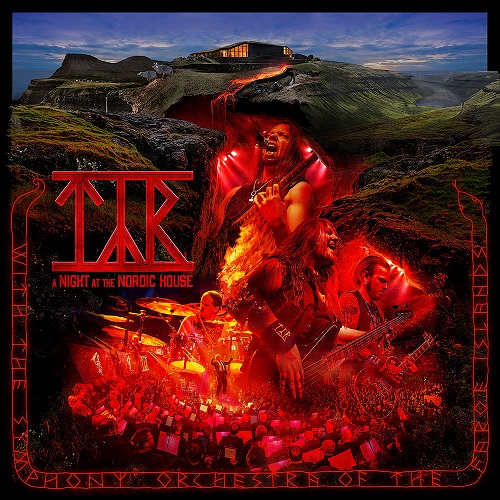 TYR
Titel: A NIGHT IN THE NORDIC HOUSE (WITH THE SYMPHONY ORCHESTRA OF THE FAROE ISLANDS
Label: METAL BLADE RECORDS
Spieldauer: 86:39 Minuten
VÖ: 18. März 2022
"A Night At The Nordic House (With The Symphony Orchestra Of The Faroe Islands)" ist das erste Livealbum der Power/Viking/Folk Metaller von den Färoer. Und dann auch noch direkt eines mit der anspruchs- und kraftvollen Begleitung eines Symphonieorchesters im Rücken.
Die Performance wurde bereits am 08. Februar 2020 im namensgebenden Nordic House in der Hauptstadt Tórshavn aufgezeichnet und umfasst stattliche achtzehn Tracks. Bei der Songauswahl liegt ein leichter Schwerpunkt auf dem letzten Longplayer "Hel" (2019), aber auch viele All-Time-Fan-Faves der Band wie `Blood Of Heroes` und `Mare Of Night` kommen selbstverständlich zum Zuge.
Im klaren Sound der Platte fällt positiv auf, dass man die Metalband noch als solche erkennen kann und das Orchester nicht dominiert, sondern dort, wo es passt, und Sinn macht, Akzente setzt und Parts unterstreicht. Und wenn dann Streicher, Bläser und Chöre imposant und bombastisch Bandklassiker wie `Hold The Heathen Hammer High` und `By The Sword In My Hands` auf solch beeindruckende Weise verstärken, macht das enorm Laune und so Einiges her.
Die Publikumsreaktionen zwischen den Songs sind gut hörbar, die Ansagen auch. Leider kann man diese nicht verstehen, da sie in Landessprache erfolgen. Ebenso die Lyrics bei einigen zum Mitgröhlen geeigneten Stücken wie `Grindavisan`, `Tróndur í Gøtu` und `Turið Torkilsdóttir`. Davon wird dann auch davon reger Gebrauch gemacht und diese passen zu der bombastischen Umsetzung wie die Faust aufs Auge. Auch der nicht immer unumstrittene Frontmann zieht sich gesanglich in der ungewohnten Livesituation sehr gut aus der Affäre.
"A Night At The Nordic House (With The Symphony Orchestra Of The Faroe Islands)" ist ein rundum gelungenes Livealbum mit sehr guter Best-Of-Setliste und einer fulminanten Orchesterbegleitung, welche perfekt in die Arrangements eingebunden wird und den Stücken neue Facetten und spannende Variationen entlockt.
Michael Gaspar vergibt 9 von 10 Punkten