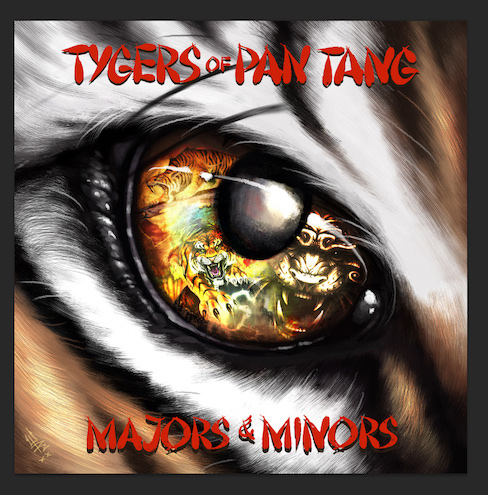 TYGERS OF PAN TANG
Titel: MAJORS & MINORS
Spieldauer: 68:00 Minuten
Die NWOBHM Dinosaurier TYGERS OF PAN TANG veröffentlichen mit "Majors & Minors" ein Best-Of der letzten 13 Jahre. Also sind nicht die alten Klassiker vertreten, sondern die Songs, der TYGERS Ära mit Florentine als Sänger, die übrigen schon länger andauert als die Frühphase der Band.
Überraschungen bleiben also weitgehend aus, wie auch bei so einem Format, außer natürlich in erster Linie den zwei Songs, die bisher noch auf keinem Album vertreten waren: Auf der CD Version findet ihr 'What You Say', einen in typischer TYGERS-Manier geschriebenen melodischen Heavy Rocker und das schnellere 'Plug Me In', das auch alle Trademarks der Band trägt und mit ordentlichem Drive zur Sache geht. Oben drauf kommt noch 'Spoils of War' im dramabetonten "Orchestral Mix", der für meinen Geschmack nicht wirklich zündet, da die Orchestrierung hier nicht wirklich zündet. Darüber hinaus bietet die Vinylvariante eine bis dato unveröffentlichte Liveaufnahme von 'Keeping Me Alive' Live in Fismes. Zudem befinden sich auch weitere Unterschiede in der Songauswahl. Ob das sein muss?
Whatever, unter den ausgewählten Songs befinden sich auf allen Versionen Party Songs, Heavy Songs, Rock Hymnen und Rock'n Roll Tracks der Legenden, wobei die legendären Songs der 80er auf "Majors & Minors" eben nicht vertreten sind. Dennoch bietet das Album  einen guten Überblick über die letzten vier Alben einer Band, die auch heute noch ihre Berechtigung und den nötigen Elan hat.
Vinyl Tracklist:
Only The Brave
White Lines
Destiny
Damn You!
Keeping We Alive
Hot Blooded
What You Say
Plug Me In
Spoils Of War (Orchestral mix)
Keeping Me Alive (Live in Fismes)
CD Tracklist:
Only The Brave
Destiny
She
Never Give In
Worlds Apart
Glad Rags
Let It Burn
White Lines
The Devil You Know
Keeping Me Alive
Hot Blooded
Damn You!
Spoils Of War (Orchestral mix)
What You Say
Plug Me In
Sven Bernhardt vergibt keine Bewertung