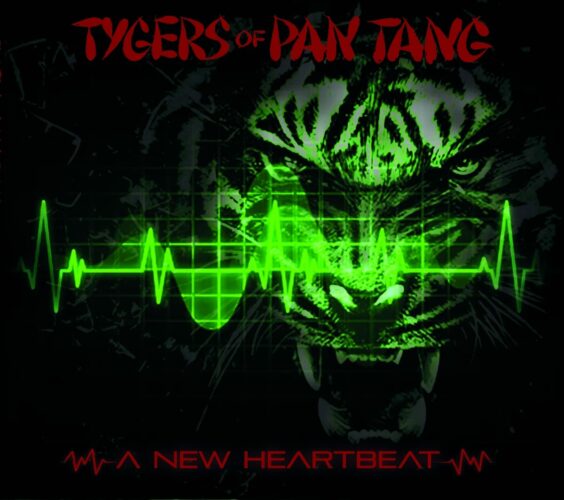 TYGERS OF PAN TANG
Titel: A NEW HEARTBEAT (EP)
Label: TARGET RECORDS/MIGHTY MUSIC
Spieldauer: 18:09 Minuten
VÖ: 25. Februar 2022
Mit ihrem ureigenen, melodischen Hardrock-/Metalsound waren die TYGERS OF PAN TANG ein bedeutender Teil der NWOBHM und präsentieren sich nach über vierzig Jahren Bandgeschichte immer noch frisch, aktiv und vielleicht stärker als je zuvor.
Aktuell offeriert der britische Fünfer mit einem runderneuerten Lineup, zu dem Gitarrist Francesco Marras und Huw Holding (Bass) hinzugestoßen sind, den 4-Tracker "A New Heartbeat". Dieser beinhaltet zwei brandneue Tracks und zwei neu aufgenommene "Perlen" vom Debüt "Wild Cat" (1980).
Die beiden neuen Songs `A New Heartbeat` und `Red Mist` zeigen die TYGERS in Bestform und glänzen mit allen wesentlichen Trademarks des UK-Quintetts, vor allem heavy und doch ungemein melodisches Riffing, verzwickte Soli und die Hammer-Vocals von Frontmann Jack Meille.
Bei den beiden neu eingespielten Stücken handelt es sich um die eher unbekannten und selten live gespielten, jedoch von Fanseite of nachgefragten und mit vielen Erinnerungen verknüpften Kompositionen `Fireclown` und `Killers`. Auch diese beiden Neubearbeitungen kommen rockig, unverbraucht und eingängig sowie mit dem bandtypischen Signaturesound daher.
Kurzum: "A New Heartbeat" macht Spaß und Lust auf mehr. Insbesondere der Titelsong, der gegenüber `Red Mist` ein wenig die Nase vorn hat, erzeugt Neugierde und Spannung aufs nächste Studioalbum. Die EP erscheint als Digipack-CD und wird ausschließlich über den Tygers-Webshop und direkt bei der Plattenfirma (targetshop.dk) erhältlich sein.
Michael Gaspar vergibt 7,5 von 10 Punkten