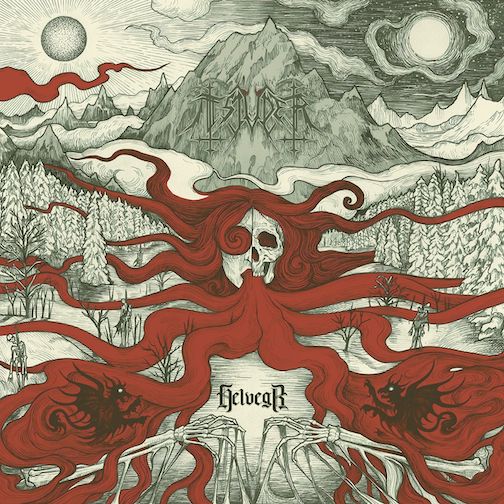 Label: SEASON OF MIST RECORDS
Spieldauer: 41:20 Minuten
VÖ: 23. Juni 2023
Seit 1993 sind die Osloer von TSJUDER im Geschäft. Black Metal in seiner ursprünglichen und rohen Form ist ihr Metier. Und das seit Beginn ihres Wirkens an. Verkünstelte Kabinettstückchen oder Genre-fremde Ausflüge erlebte man TSJUDER bislang nicht. Album Nummero sechs hört auf den bezaubernden Titel "Helvegr". Und hier drücken die Norweger ganz schön auf die Tube und zeigen wie sie ihre Authentizität aufrecht erhalten.
'Iron Beast' eröffnet den lauschigen Reigen schwarzmetallischer Töne, die sich grob betrachtet nahe an uralten Immortal einordnen lassen. 'Prestehammeren' setzt den Bombenangriff des Songintros fort und attackiert wie ein Schwarm wildgewordener Hornissen. TSJUDER machen hier alles richtig und zeigen wie man brutalen und packenden Black Metal alter Prägung zelebriert. Auch 'Gamle Erik' oder 'Choas Fiend' wissen als schwarze Gewaltorgien zu überzeugen. Aber es ist nicht nur der rohe Blast, der hier nachhaltig überzeugt, sondern das Spiel mit langsamen Parts und der Akzentuierung der erzeugten Atmosphäre. Und das ohne Keyboard, Flöte oder cheesy Passagen. Black Metal wie er ursprünglicher nicht sein kann. Das hört man auch im schleppenden, teilweisen verspielten Titeltrack. Das Album wird von dem Instrumental 'Hit død' stimmungsvoll geschlossen.
Nag und Drauglin, die beiden Bandköpfe, haben hier mit Sessiondrummer Jon Rice (u.a. Job for a Cowboy, Uncle Acid and the Deadbeats) eine ganz starke Scheibe erschaffen, die sich hinter einem Bandklassiker wie Desert Northern Hell definitiv nicht zu verstecken braucht. Mit Sicherheit eines der Highlights aus dem Black Metal für die Jahresbestenliste. Starke Scheibe!!!
Ingo Holzhäuser vergibt 9 von 10 Punkten