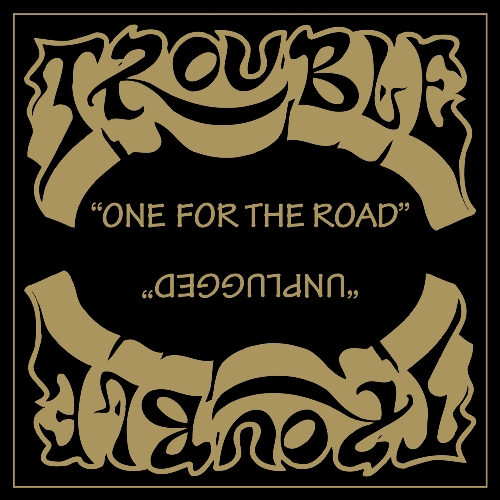 TROUBLE
Titel: ONE FOR THE ROAD/UNPLUGGED
Label: HAMMERHEART RECORDS
Die letzte offizielle TROUBLE Veröffentlichung "The Distortion Field" ist jetzt schon acht Jahre her und mittlerweile ist der einzig wahre Sänger Eric Wagner ja auch leider verstorben (R.I.P.).
Hammerheart Records bringen jetzt erstmalig die 1994er EP "One For The Road" als Vinyl heraus, welche zur damaligen "Manic Frustration" Europa Tour in einer 1500er Auflage als CD heraus gebracht und auf Tour verkauft worden ist, auf Vinyl heraus.
Die Tracks 'Goin' Home', 'Window Pain', 'Requiem', 'Another Day' und 'Doom Box' sollte eigentlich jeder Doom Head beherrschen und abfeiern.
Hinzu kommen in der Doppel-CD Variante die komplette "Unplugged" Session" mit zehn Tracks, von denen 2007 nur sechs Stück veröffentlicht wurden.
Die Tracks der "Unplugged" Session sind folgende:
7:00 A.M.
Rain
Flowers
Requiem
Smile
Misery
Mythic Hero
Waiting for the Sun
Fly
Heartful of Soul
Das Label betont, dass dies kein Rip Off nach Wagner's Tod sein soll, sondern diese Veröffentlichung schon länger geplant war. Jedenfalls zeigen sowohl "One For The Road" als auch "Unplugged" die Klasse einer Doom Band, die sich leider teils selbst im Weg gestanden sind. Zudem zeigen die beiden Scheiben auch alle Facetten der wohl einzigartigen Stimme Wagner's auf.
Jeder Doomer der diese Scheiben noch nicht sein eigen nennt, sollte spätestens an dieser Stelle zu greifen.
Ludwig Lücker vergibt keine Bewertung