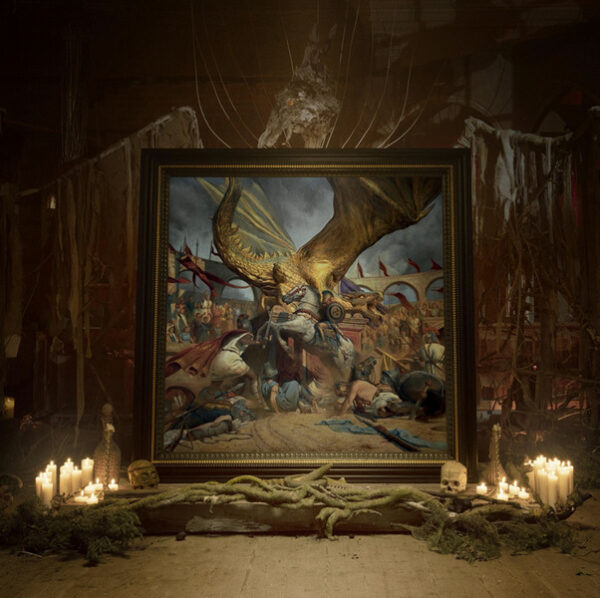 TRIVIUM
Titel: IN THE COURT OF THE DRAGON
Label: ROADRUNNER RECORDS
Spieldauer: 52:17 Minuten
Nur knapp anderthalb Jahre nach dem Vorgänger "What the Dead Men Say" präsentieren die US-Metaller TRIVIUM bereits den Nachfolger "In The Court Of The Dragon", bei dem es sich aber um alles andere als einen Schnellschuss handelt.
Nach dem kurzen, dem zehnten Studioalbum entsprechend X getauften, Intro geht es mit dem Titelsong direkt in die Vollen. Der Track überzeugt mit der gewohnten Mischung aus Aggression, harten Riffs und melodischer, fast spielerischer Eingängigkeit. Und er verfügt ebenso wie das folgende 'Like A Sword Over Damocles' über einen fantastischen Chorus.
Auffällig ist, dass dieses Mal gleich drei Songs die Sieben-Minuten-Marke knacken. Und obwohl ich generell eher für die kurzen, knackigen Tracks wie 'A Crisis of Revelation' und das überragende 'No Way Back Just Through' zu haben bin, gehören auch diese zu den Höhepunkten dieser Platte.
Die drei Longtracks 'The Shadow of the Abattoir', 'Fall Into Your Hands' und 'The Phalanx' sind vollgepackt mit Riffs, Melodien und Energie. Frontmann Matt Heafy zeigt auch und vor allem hier einmal mehr sowohl mit seiner äußerst variablen Stimme, als auch mit seinen packenden Gitarrensoli, was er kann.
Der zuerst genannte Song mit eher ruhigem Anfang gefällt mir persönlich am besten, aber auch das abschließende 'The Phalanx' hat seine hymnischen Momente und neben aller Härte und Aggressivität gefallen vor allem der epische Refrain und die von Insahn (Emperor) beigesteuerten Orchestrierungen.
TRIVIUM setzen den zuletzt eingeschlagenen, stilistischen Kurs konsequent fort und perfektionieren ihren Signaturesound weiterhin kontinuierlich. "Silence In The Snow" und "The Sin And The Sentence" werden (wohl für immer) meine Lieblingsalben bleiben, aber "In The Court Of The Dragon" reiht sich nur knapp dahinter ein.
Michael Gaspar vergibt 9 von 10 Punkten