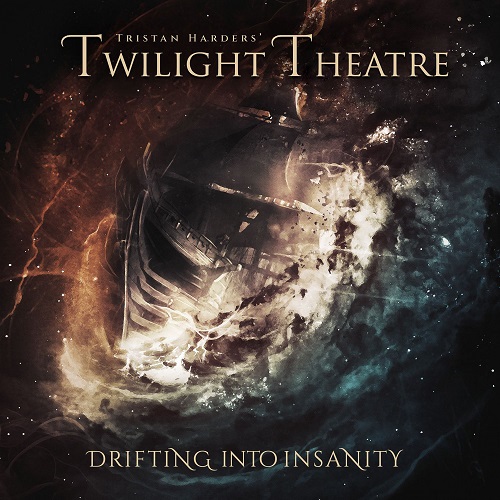 TRISTAN HARDER'S TWILIGHT THEATRE
Titel: DRIFTING INTO INSANITY
Spieldauer: 49:02 Minuten
"Hauptberuflich" ist Songwriter und Multiinstrumentalist Tristan Harder Frontmann der deutschen Power Metal Formation Terra Atlantica, doch nun stellt er das Debüt "Drifting Into Insanity" seines Soloprojekts TRISTAN HARDER'S TWILIGHT THEATRE vor.
Der Albumtitel steht dabei für seinen durch pandemiebedingt fehlende Proben und Live-Gigs mit seiner Band verursachten Gemütszustand. Dementsprechend sind auch die Lyrics von Endzeitstimmung, Gesellschaftskritik und Melancholie gekennzeichnet, strahlen aber darüber hinaus auch an vielen Stellen Zuversicht und Aufbruchstimmung aus.
Musikalisch bietet die neue Scheibe melodischen Power Metal mit haufenweise eingängigen Refrains und teilweise symphonischen Elementen und epischen Chören. Verschiedene Tempowechsel, viel Dynamik, die grandiose Gesangsleistung und die unterschiedlichen Charakteristika der Songs sorgen für einiges an Abwechslung und Energie. Manchmal meint man, es mit verschiedenen Sängern oder gar mehreren Bands zu tun zu haben.
Eigentlich muss man diese kraftvollen, abwechslungsreichen fünfzig Minuten vom instrumentalen Intro, über das Zwischenspiel 'Interlude In G# Minor' bis hin zum akustischen Abschluss 'Between The Battles' am Stück genießen. Wer aber trotzdem Wert auf Anspieltipps legt sollte sich den pfeilschnellen Quasi-Opener 'The End', das hart riffende, aber nicht minder eingängige 'Open The Gates' und das epische, chorlastige 'Rise Against The Tyranny' zu Gemüte führen.
Weitere Höhepunkte sind das hymnisch-majestätische 'The Realms Of Memories' und der packende Ohrwurm 'Save Me From Insanity', bei dem Sänger Tomi Fooler, Frontmann der italienischen Europowermacht Skeletoon, und Gitarrist Gabriel Tuxen (Seven Thorns) mit ihren Gastbeiträgen für den letzten Schliff sorgen.
Wie gesagt: "Drifting Into Insanity" ist eine durchweg gelungene Scheibe ohne Ausfall und wie aus einem Guss und ein erstes, überraschendes Powermetal-Highlight 2022, mit dem sich Fans von Bands wie Twilight Force, Rhapsody Of Fire, Avantasia, Hammerfall aber auch Helloween oder Blind Guardian prächtig amüsieren dürften.
Michael Gaspar vergibt 9 von 10 Punkten