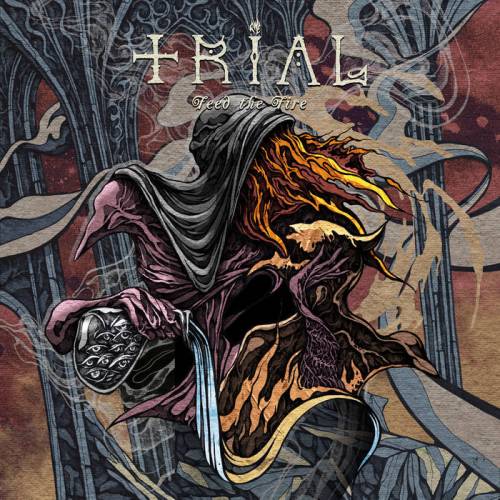 TRIAL (SWE)
Titel: FEED THE FIRE
Spieldauer: 46:24 Minuten
VÖ: 2. September 2022
TRIAL (SWE) sind eine erstklassige, traditionelle Metal Band, welche in der Tradition von Bands wie Portrait, Ram oder auch alten In Solitude steht.
Hier regiert zu jeder Zeit fettes Riffing, hymnische Vocals und entsprechende Vocalmelodien und auch ein knackiges, aber dennoch einprägsames Songwriting. Das Anhängsel (SWE) sollte eigentlich nicht nötig sein, sind diese Jungs aus Trollhättan doch bei Weitem die beste Combo, welche unter diesem Banner segelt.
Und auch wenn die Band erst kürzlich in einem Interview verlauten ließ, dass "Vessel" aus dem Jahre 2015 ihr bestes Album sei, kann ich nicht wirklich unterschreiben, dass das aktuelle Album "Feed The Fire" auch nur einen Deut schlechter sein soll.
Hört euch einfach Headbanger Material wie den hymnischen Up Tempo Brecher 'Sulphery', die im Mid Tempo beginnende und sich dann steigernde Hymne 'Thrice Great Path', das schnelle 'Snare Of The Fowler', das halbballadesk anfangende und dann zwischen Speed und Mid Tempo wechselnde 'Feed The Fire', die pumpende Hymne 'Quadrivium' und das abschließende, schleppende und dennoch melodische 'The Crystal Sea' an und ihr werdet dem höchstwahrscheinlich, ach was 100%ig zu stimmen.
Das ist Metal auf verdammt hohem Niveau, der noch von den passenden Vocals und einer transparenten Produktion verstärkt wird.
Pflichtkauf für Metalheads!
Ludwig Lücker vergibt 9 von 10 Punkten