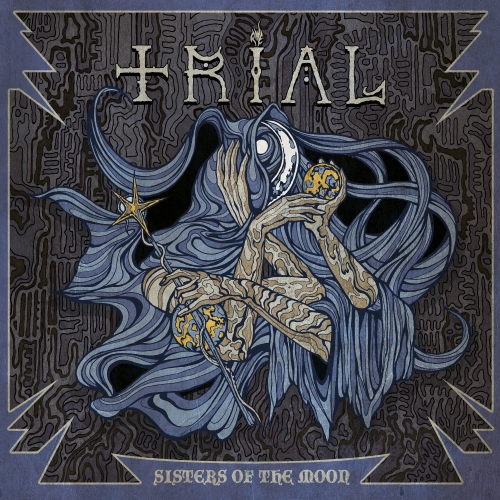 TRIAL
Titel: SISTERS OF THE MOON
Spieldauer: 11:02 Minuten
'Vessel' und 'Motherless' waren zwei großartige Alben von TRIAL, live überzeugte die schwedische Retro-Metal-Combo vor allem durch die charismatisch-stimmgewaltige Performance Ihres Sängers Linus Johannson. Und der ist nun leider nicht mehr dabei.
Statt dessen haben sich TRIAL mit Ex-Air Raid Sänger Arthur W. Andersson verwiedervollständigt, oder so ähnlich. Und um ihn den Fans erst einmal vorsichtig nahezubringen, wählten TRIAL den relativ ungewöhnlichen Weg einer 7″-Single mit zwei Coverversionen.
Die A-Seite startet dabei mit dem Fleetwood Mac-Track 'Sisters Of The Moon', im Original eine leicht düstere Popnummer, die hier in das bekannte Soundgewand von TRIAL perfekt eingepasst wird. Viele schöne Twinguitar-Melodien mit treibendem Groove, süffig fließenden Breaks und einer starken Gesangsleistung vom Neuen.
Nun zur B-Seite, oh, Königsklasse für den Sänger! Die Wahl fiel auf 'Die Young' von Black Sabbath vom Heaven And Hell-Album. Die instrumentale Umsetzung ist auch hier ganz grosses schwedisches Tennis. Und auch Herr Andersson schlägt sich hier hervorragend, auch wenn er stimmlich ein bisschen weniger Volumen mitbringt als Dio. Aber es gibt ja eh keinen besseren Sänger als Dio.
Pflicht gelungen, ob es bei der Live-Kür auch passt, wird sich zeigen. Denn auch dort hat Linus Johannson die Latte ziemlich hoch gelegt. Die Single macht auf jeden Fall verdammt viel Lust auf ein neues Album und bringt dem Sammler noch ein limitiertes Schmankerl für den heimischen Vitrinenschrank.
Dirk Eckhard vergibt keine Bewertung