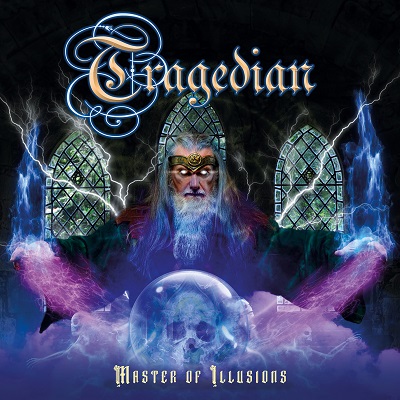 TRAGEDIAN
Titel: MASTER OF ILLUSIONS
Spieldauer: 44:54 Minuten
VÖ: 24. März 2023
Die multikulturellen Metaller TRAGEDIAN kommen aus Hamburg und legen mit "Master Of Illusions" bereits ihren fünften Studiodreher in der Schnittmenge von Heavy, Speed und melodischem Power Metal vor.
Bereits der packende Auftakt `Into The Light´, vor allem aber das mit einem grandiosen Mitsing- und Faustreck-Chorus ausgestattete `Eternal´ zeugen von gutem Songwriting und einem Händchen für mitreißende Melodien und eingängige Refrains.
Leider kranken die Kompositionen ein wenig an dem etwas verwaschenen, unausgewogenen, dumpfen Sound. Die Vocals sind mal zu laut, mal zu leise, die Drums tickern wie bei Fear Factory und die Keyboards sind auch kein rechter Ohrenschmaus, was angesichts der an sich guten Songs sehr schade ist.
Die zweite Hälfte der zehn Tracks weiß dann deutlich besser zu gefallen, ohne dass die genannten Probleme völlig auszublenden wären. Dabei macht das traditionell-metallische, mit packendem Chorus versehene `Escaping Shadows´ den Anfang, bevor das eingängige `Exodo´ mit seinen spanischen Vocals/Lyrics überzeugt, welche die Stimme von Frontmann Joan Pabon voll zur Geltung bringen und dem Sound der Band sehr gut zu Gesicht stehen.
Auch das erst hymnische, dann schnelle `Emotions´ und der folgende flotte Ohrwurm `Freedom´ wirken etwas stimmiger, auch soundmäßig besser austariert und kommen schneller auf den Punkt. Gleiches gilt für das abschließende, balladesk-majestätische `Obscured Dreams´.
Unter dem Strich bleibt aus den genannten Gründen ein eher durchwachsenes Bild von "Master Of Illusions" zurück. Die zehn neuen Tracks lassen aber auch riesiges musikalisches und songwriterisches Potential erkennen.
Michael Gaspar vergibt 6 von 10 Punkten