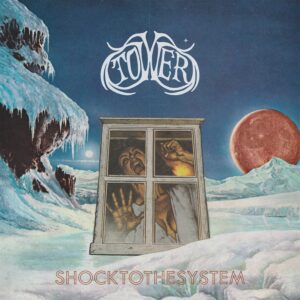 TOWER
Titel: SHOCK TO THE SYSTEM
Label: CRUZ DEL SUR MUSIC
Spieldauer: 39:00 Minuten
Das New Yorker Quartett TOWER zockt klassischen Vintage Metal mit 70er Attitüde und legt mit "Shock To The System"seinen Zweitling nach dem gefeierten selbstbetitelten Debüt (2016) vor.
Während beim Opener 'Blood Moon' die Gitarren braten und ein dreckig-rockiger Sound vorherrscht, kommen beim folgenden 'Prince Of Darkness' eher doomige Elemente zum Einsatz und Frontfrau Sarabeth Linden gibt die verführende Predigerin statt der rotzigen Rockröhre.
Im Großen und Ganzen ist "Shock To The System" ein ungestümes, wildes Album mit beinahe durchweg hohem Tempo. Stets im Mittelpunkt die facettenreiche Sängerin, die singt, röhrt und schreit, was die Stimmbänder hergeben.
Eingängige Songs wie das energetische 'On The Line' und die Hymne 'Lay Down The Law' laden zum Mitgrölen ein. Genauso vertreten sind aggressive Stücke wie 'Hired Gun', dynamische, abwechslungsreiche Kost wie das grandiose 'In Dreams' oder gar beinahe punkiger Stoff wie das abschließende 'Powder Keg'.
Der fast durchgehend ruppige, aggressive Grundton, der explosive, fast immer schnelle Stil sowie fehlende Momente zum Luftholen machen das Ganze jedoch auch ein wenig anstrengend, gleichförmig und wenig abwechslungsreich. Die rumpelige, undifferenzierte Produktion tut ihr übriges zu einem eher durchwachsenen Silberling, der nicht restlos überzeugen kann.
Michael Gaspar vergibt 7 von 10 Punkten