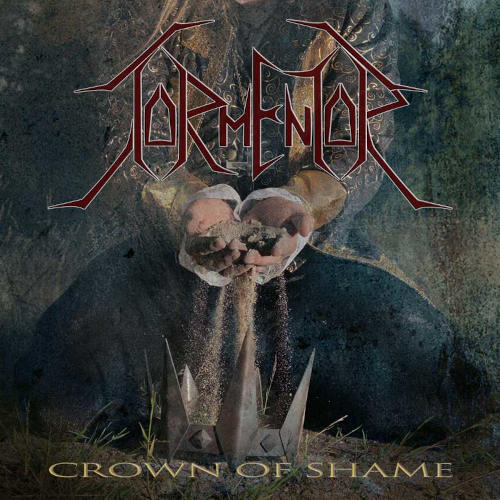 TORMENTOR
Titel: CROWN OF SHAME
Spieldauer: 28:58 Minuten
Wenn man mal bei Metal Archives nach schaut, dann stößt man auf satte zwanzig Bands namens TORMENTOR. Und die meisten davon spielen bei dem Namen – remember Kreator – natürlich auch Thrash Metal.
Hiervon sind auch die Jungs aus Guben in Brandenburg um die es sich hier handelt nicht unberührt. Allerdings versuchen sie erst gar nicht die alten Demo Tage Kreators mit einem rumpeligen achtziger Jahre Sound zu imitieren, sondern orientieren sich schon kompositorisch und auch sound-technisch an den heutigen Gegebenheiten, ohne aber die Basics des Thrash's zu vernachlässigen oder gar aus zu wimpen.
So knallen sie uns hier auf dieser EP fünf Tracks vor den Latz, von denen der schnelle Opener 'Welcome To The Depressive Age' mit seinem feinen Mosh Part, der pumpende Speedster 'Call To Arms', der mit seinen verhaltenen Parts für eine coole Dynamik sorgt und der treibende Banger 'Slaved To The Core' mit seinem variablen Tempo auf jeden Fall der Erwähnung wert sind.
Auch bei den beiden weiteren Tracks, unter anderem der zehn-minütige Rauswerfer, befindet sich kein wirklicher Stinker, so dass Fans der heutigen Kreator ein würdiges Substitut finden, was durch die Vocals von Max zudem noch verstärkt wird.
Aber auch alle anderen Thrasher für die die Mucke nicht unbedingt schwärzlich rumpeln muss sollten ein Ohr riskieren.
Ludwig Lücker vergibt 8 von 10 Punkten