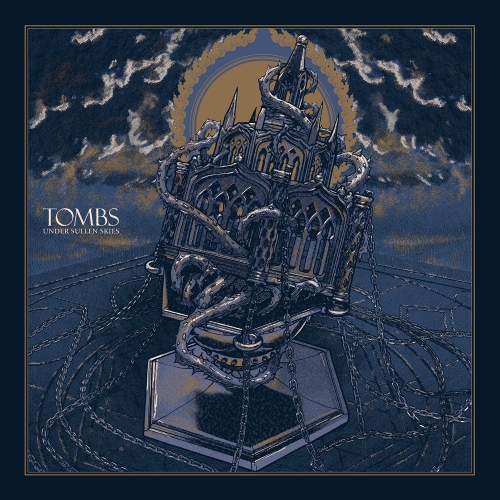 TOMBS
Titel: UNDER SULLEN SKIES
Spieldauer: 60:05 Minuten
Black Metal im Allgemeinen, vor allem die besonders trve Variante, ist ja so gar nichts für Papas Sohn. TOMBS waren mir aber als ziemlich räudiger, bösartiger Crust/Black Bastard aus alten Relapse-Records Tagen in Erinnerung, so ein bisschen wie die großartigen Nails, meinte ich mich erinnern zu können. Daher war ich schon ziemlich gespannt auf das neue Album 'Under Sullen Skies'.
Dem melodischen Black-Metal wird hier noch, beispielsweise im Opener 'Bone Furnace' oder dem doomig beginnenden 'Descensum' in abgespeckter Form gefrönt, das crustige haben TOMBS zu meinem Bedauern leider komplett über Bord geworfen. Doom-Death, Post-Punk und Gothic-Einflüsse haben stattdessen Einzug gehalten. Wenn man sich in diesen 'neuen' Soundmix, der noch dazu ultra breitwandig produziert wurde, reingefuchst hat, bietet 'Under Sullen Skies' jedoch einige interessante Schauwerte. Da sticht vor allem das in trypticonschen Gewässern fischende doomgotische 'Secrets Of The Black Sun' und das vor tollen Melodien strotzende Blastgebretter 'Barren' hervor. Und in 'Angel Of Darkness' höre zumindest ich einen gewissen Einfluss neuerer Behemoth heraus.
Bei einer Spielzeit von über einer Stunde gelingt es TOMBS nicht ganz, den Spannungsbogen durchgehend aufrecht zu erhalten. Auf den belanglosen Post-Punk-Stinker 'The Hunger' hätte man da dann auch am Besten gleich ganz verzichtet und auch das lahmarschig-langatmige 'Sombre Ruin' wäre nach meiner Auffassung ein exzellenter Streichkandidat. Der Stringenz des Albums hätte das gut getan.
Als Anhänger des alten TOMBS-Sounds muss man in 'Under Sullen Skies' schon ein wenig Zeit und Arbeit investieren, um mit dem Album warm zu werden. Leute, die auf der Suche nach neuen, originellen Formen des extremen Metals sind, können hier sicherlich fündig werden.
Dirk Eckhard vergibt 7 von 10 Punkten