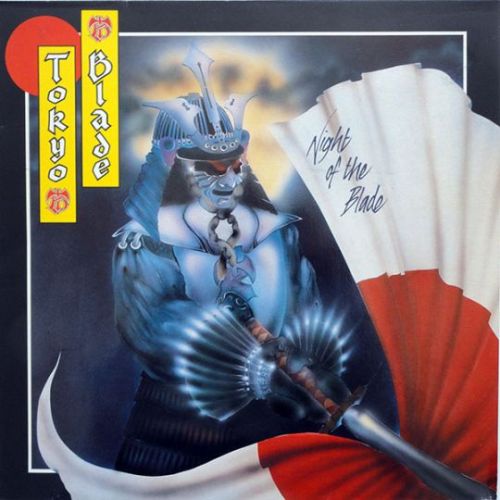 TOKYO BLADE
Titel: NIGHT OF THE BLADE
Spieldauer: 34:46 Minuten
Die Jungs von High Roller haben sich mit diesem Vinyl Re-Rlease eines weiteren Kleinodes angenommen. TOKYO BLADE waren mit ihrem selbst betitelten Erstling aus dem Jahre 1983 zum heissen Insider Tip der New Wave of British Heavy Metal ernannt worden, und das völlig zu Recht.
Danach gab es einen Sängerwechsel von Alan Marsh zu dem hier vertretenen Vic Wright, was auch einen melodischeren Einschlag bei einigen Songs nach sich zog, wie bei 'Someone To Love' und 'Rock Me To The Limit'. Mir persönlich gefallen hier die Tracks im alten Stile wie das schnelle 'Night Of The Blade', das stampfende, teils hymnische 'Warrior Of The Rising Sun', der Up tempo Rocker 'Unleash The Beast', der stampfende Groover 'Love Struck' und der melodische Mid Tempo Rocker 'Lightning Strikes (Straight To The Heart)' um einiges besser.
Leider war es das dann auch mit dem Kultstatus von TOKYO BLADE, da diese den melodischeren Stil weiter fortsetzen wollten, um die neuen Def Leppard zu werden, was dann allerdings auch nicht gelang.
Dennoch bleibt der Name TOKYO BLADE für alle Zeiten mit den geilen ersten beiden Scheiben verbunden. Those were the days…..Die Scheibe gibt es übrigens in limitierten Auflagen in schwarz, opaque red oder white/red splatter.
Ludwig Lücker vergibt keine Bewertung