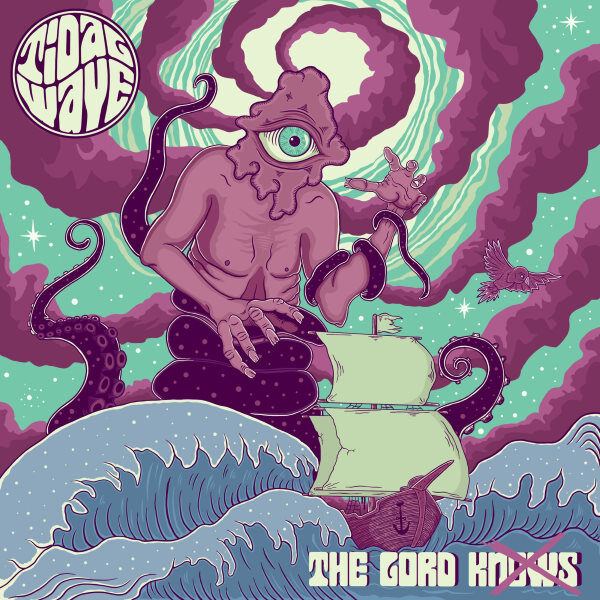 TIDAL WAVE
Titel: THE LORD KNOWS
Spieldauer: 41:17 Minuten
VÖ: 20. Januar 2023
Angenehm eingängig und songdienlich stonern und rocken die Schweden TIDAL WAVE auf ihrem zweiten Album "The Lord Knows" ab. Das erste (Mini-)Album "Blueberry Muffin" war 2019 schon ein hörenswerter Einstand – der Neuling setzt sound- wie songtechnisch aber definitiv ein paar Schippen Wüstensand drauf.
TIDAL WAVE sind im Stoner-Rock-Bereich sicher nicht innovativ oder in irgendeiner Form "extrem", packen auf "The Lord Knows" aber einfach acht gute bis herausragende Songs, die Genre-Fans gefallen und live ebenfalls gut abgehen sollten. Das Album fühlt sich im positiven Sinne teilweise wie ein "Best-of Stoner Rock" an. Da viele Bands, an die man sich mitunter erinnert fühlt, teilweise schon seit 20 Jahren nicht mehr aktiv sind, ist das für mich im Grund schon ein Pluspunkt.
Der starke Opener 'Lizard King' hat einen coolen Soundgarden-Groove. Mein persönliches Highlight 'End Of The Line' (kleiner Hit!) ist ein cooler Soundgarden/Kyuss-Bastard. Bei Songs wie 'Marijuana Trench' oder 'Robbero Bobbero' kommt eine saucoole Orange-Goblin-Rotzigkeit dazu. Bei den doomigeren Passagen von Songs wie 'Pentagram', 'Purple Bird' oder 'Thorsakir' schimmert gerne mal gut gemachtes Sabbath-Worshipping a la alte Kadavar oder Orchid durch. Insgesamt sollen also Stoner Rock Fans, vor allem Fans von Soundgarden (sorry – richtig "grunge" waren die eigentlich nie!) bis hin zu Liebhabern alter Orange Goblin, ein Ohr riskieren.
An dieser Stelle möchte ich als "Schmankerl" übrigens mal den offiziellen Promotext zum Album zitieren, den man so mitgeliefert bekommt – herrlich objektiv und so ganz ohne Understatement;
"If you like loud and groovy heavy, then I'm sure you will love Sweden's super talented stoner rock newcomers TIDAL WAVE and their sophomore album "The Lord Knows" on Ripple Music! You better sit tight (or cut loose), because this talented foursome is ready to hit all households in spectacular fashion with their deluge of raucous fuzz-laden anthems. From the cathartic rip-roaring power of "Robbero Bobbero" to the stadium-worthy flavor of "Purple Bird", Tidal Wave delivers the ultimate blend of in-your-face stoner rock and classic heavy bravura with epic riffs, unstoppable dynamics and skyrocketing vocals from Alexander 'Sunkan' Sundqvist."
In diesem Falle sehe ich diese doch "ein wenig" übertriebenen Superlative gerne mit einem Augenzwinkern 😉 Als Newcomer liefern TIDAL WAVE mit "The Lord Know" wirklich einfach ein geiles kompaktes Stoner Rock Album ab, das songtechnisch mehr Spaß macht und mehr Substanz und Nachhaltigkeit aufweist, als z. B. jeglicher überhypter "Queens Of The Stone Age" Mist jemals hatte. Punkt.
Joe Nollek vergibt 8 von 10 Punkten