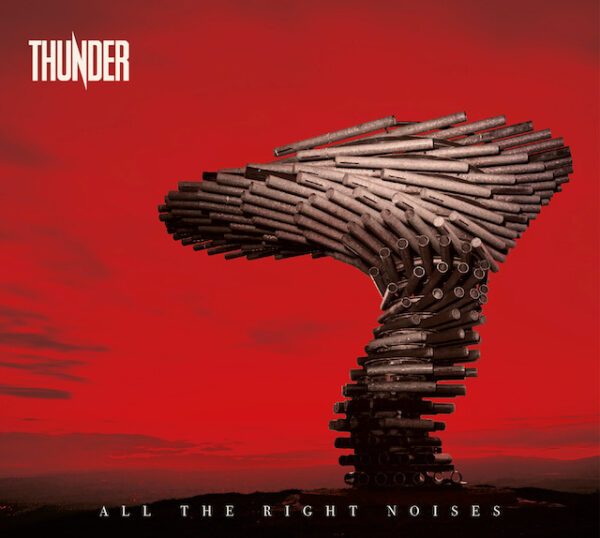 THUNDER
Titel: ALL THE RIGHT NOISES (Expanded Edition, 2-CD+DVD)
THUNDERs Karriere dauert schon drei Jahrzehnte und bietet mit 13 Studioalben mehr als genug Zusatzmaterial, um das vor ca. einem halben Jahre erschienene Album  "All The Right Noises", in der Expanded Edition herauszubringen. Ob sich die Anschaffung lohnt, ist wie immer bei solchen Sonderausgaben schwer zu beantworten, denn die Bonus CD, mit den vier zusätzlichen Songs 'Firebird', 'Hero', 'The Fires That Roar' und 'Pariah' lag bei vielen Fans bereits dem Original bei. Die Qualität der vier Tracks ist unbestritten hoch und der Haupt-CD ebenbürtig. Die ebenfalls darauf enthaltenen Liveversionen klingen anständig und professionell, bleiben allerdings ohne Publikum auch ohne echte Live-Atmosphäre.
So bleibt als echtes Lockmittel die zusätzliche DVD mit dem "THUNDER TV-Special" als Kaufanreiz für Freunde des klassischen, druckvollen UK Hard Rocks. Aufgezeichnet wurde das Streaming-Konzert im März dieses Jahres, parallel zum Album-Release. Satte 17 Songs haben es auf die DVD geschafft, die somit auf ca. 90 Minuten Spielzeit kommt und sogar  länger ausfällt als der ursprüngliche Stream. Neben der kompletten neuen Scheibe kommen dankenswerterweise auch einige Klassiker und Highlights der Bandhistorie zum Einsatz. Hits wie 'Love Walked In', 'You're Gonna Be My Girl' oder natürlich das abschließende 'Dirty Love' waren offensichtlich auch für die zugeschalteten Zuschauer die Höhepunkte der Show. Dank der Technik gibt es auch ein wenig Interaktion zwischen Danny Bowes und der Band einerseits und den Fans andererseits, die zwischendurch immer wieder einbezogen und auch auf der DVD gezeigt werden. Ein Konzertfeeling, kann dieses natürlich nicht ersetzen, ist aber immerhin besser als völlige Blutleere. Obendrauf spendiert die Plattenfirma in dieser Version noch Bonusmaterial in Form von "Behind The Scenes" Mitschnitten, inklusive einiger unterhaltsamer Fails, einer Fragestunde und vier Promotion-Videos zu dieser Variante.
Fazit: Für Hard Rock Fans , die "All The Right Noises" noch nicht im Regal stehen haben oder nur die einzelne CD, bietet die Expanded Edition sicher eine lohnenswerte Bereicherung. Wer nur die DVD nicht sein Eigen nennt, muss wohl schon der Kategorie echter THUNDER-Fan angehören, um noch einmal in die Tasche zu greifen.
Sven Bernhardt vergibt keine Bewertung