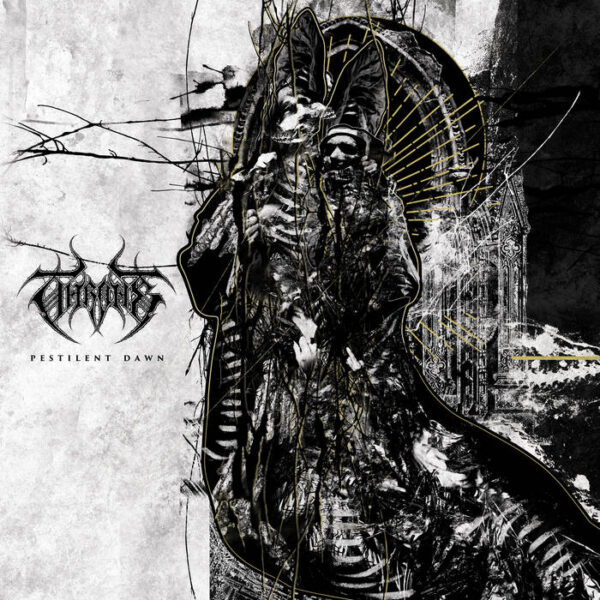 THRONE
Titel: PESTILANT DAWN
Label: REDEFINING DARKNESS RECORDS
Spieldauer: 30:57 Minuten
THRONE sind eine Death Metal Band mit starkem Black Metal Einschlag aus Michigan, USA. Die US-Amerikaner existieren seit rund sechs Jahren. 2018 wurde eine EP veröffentlicht und mit "Pestilant Dawn" legen sie nun ihr Debütalbum vor.
Auffallend ist die gute Produktion und das durchaus hohe spielerische Niveau an den Instrumenten. Insbesondere der Schlagzeuger wird offenbar mit Duracell Batterien betrieben. Good Job!
Wenn ich Vergleichsbands nennen müsste, fallen mir spontan Belphegor und ebenso The Black Dahlia Murder ein. Erstere hinsichtlich des gesamten Songwritings und letztere aufgrund des Wechselgesangs zwischen Grunts und Gekeife. Fans von Suffocation oder Hate Eternal sollten aber gleichermaßen glücklich werden, denn hier  gibt es einfach gekonnt auf die Mütze. Anspieltipps sind 'Amongst the sinners, they came forth', der Titeltrack und 'Beyond Malice'.
Eine kurzweilige Angelegenheit, perfekt für die Mittagspause, den Frühsport oder einfach mal so.
Ingo Holzhäuser vergibt 7,5 von 10 Punkten