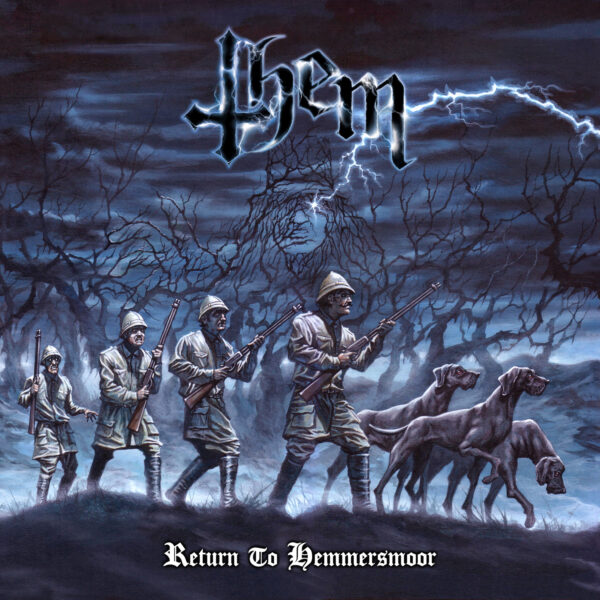 THEM
Titel: RETURN TO HEMMERSMOOR
Spieldauer: 48:46 Minuten
In Windeseile haben sich die als King Diamond-Tribut gestarteten THEM zu einer festen Größe in der Metalszene etabliert. Mit einer EP und drei Alben in nur vier Jahren gehört man zu den Vielschreibern und entwickelt das den Scheiben zugrunde liegende lyrische Konzept ebenso weiter wie die musikalische Ausrichtung. Auch wenn gerade konzeptionell wie optisch der King Diamond-Bezug nochgegeben ist, so hat man sich in Sachen Songwriting inzwischen in eine etwas andere Richtung bewegt.
"Return To Hemmersmoor" spiegelt in Songs wie "The Tumultuous Voyage To Hemmersmoor," "Waken" oder "Battle Blood" Markus Ullrichs Vorliebe für präzise gerifften Bay Area-Thrash der Sorte Heathen oder Forbidden. Zum Gelingen dieser Neuausrichtung trägt auch und nicht zuletzt das Präzisionsdrumming von Demolition Hammer-Schlagwerker Angel Cotte bei. Jedoch muss man in Songs wie der Single "Free" oder "The Thin Veil" nicht auf den auf den Erstlingen etablierten hymnischen Aspekt verzichten. Überhaupt achtet Ullrich zusammen mit Troy Norr derart penibel auf eine ausgewogene Dynamik, dass sich der Verdacht aufdrängt, dem Album liege nicht nur textlich ein ausgeklügelter Plan zugrunde.
Vom negativ konnotierten "Reißbrett" mag man zwar nicht sprechen, aber dennoch fehlt es "Return To Hemmersmoor" wohl auch aufgrund des logistischen Aufwands, ein solches Konzepte mit über tausende von Kilometern verstreuten Musikern umzusetzen, ein wenig an Spontaneität. Aber auch ein architektonisch solide aufgebautes Album mag natürlich zu überzeugen, zumal wenn man es mit solchen Könnern zu tun hat (cool, wie man in "Hellhounds" organisch Hundegebell in den Song einbaut). Was "Return To Hemmersmoor" dennoch zu einem Klasselbum fehlt, ist bei allem Gebell der letzte melodische Biss, die ganz großen Widerhaken und Hits. Demnach handelt es sich um ein wirklich gutes Album mit einem für Storynerds ansprechenden Textkonzept, das an der einen oder anderen Stelle im Sinne der späten Savatage jedoch etwas überfrachtet wirkt. Solide 7,5 Punkte. Finis.
Patrick Müller vergibt 7,5 von 10 Punkten