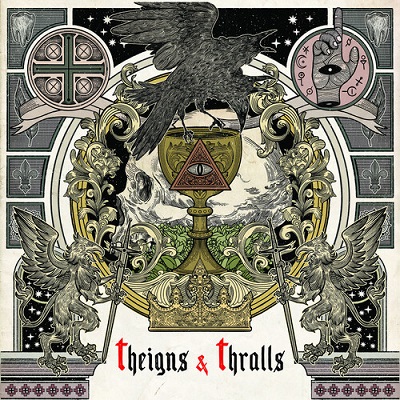 THEIGNS & THRALLS
Titel: THEIGNS & THRALLS
Spieldauer: 53:57 Minuten
VÖ: 08. April 2022
Ideengeber, Bandgründer und Mastermind von THEIGNS & THRALLS – sowohl Bandname als auch Titel des Albums und eines Songs – ist Skyclad-Sänger und Hauptsongwriter Kevin Ridley.
Pandemie und Lockdown bewirkten, dass eine kleine "Gelegenheitsband" unter befreundeten Musikern als ein Projekt mit 25 beteiligten Musikern von Bands wie Korpiklaani, Ensiferum, Cruachan, Waylander, Celtibeerian und Metal De Facto sowie weiteren Solokünstlern und mit der Veröffentlichung einer Platte endete.
Die Scheibe vereint keltischen Speed Punk, Folk Metal und Classic Rock, wozu die Gäste von Schlagzeug, Bass, Gitarre, Geige, Pfeifen, Dudelsack bis hin zu Drehleier und Gesang ihre Talente beisteuern.
Der epische Opener und Titelsong ist flott, eingängig und verfügt über einen hymnischen Chorus, welcher durch epische Dudelsackklänge zusätzlich betont wird. Flotte Hymnen und Singalongs mit viel Power und Chören wie `Drinking`, The Highwayman` und Today We Get To Play` erinnern an die Folk Punks Dropkick Murphys.
`Strive` ist ein etwas langsamerer, hypnotischer Track mit Drehleier und Violine, der auf einem kleinen Bassriff basiert, `The Lords Of The Hills` ein ebenso ruhiges, reflektiertes, aber auch eingängiges "Beatles meets Folk"-Stück. Der politische Song `The New Folk Devils` klingt nach The White Stripes mit Violine, der entspannte, eingängige "Toe-Tapper" 'Not Thru The Woods Yet` handelt vom Musikerleben und lädt zum Mitwippen ein.
Bei `Life Will Out` handelt es sich um einen modernen, atmosphärischen Track mit verzerrten Megaphon-Vocals, Industrial Vibes, Dudelsäcken und hypnotischen, weiblichen Vocals. Unter den fünf Bonus-Tracks befindet sich ein von Kärtsy Hatakka (Waltari) erstellter, noch elektronischerer, modernerer Remix des Stücks.
Womit wir bei den weiteren Zugaben sind. Als da wären: das Traditional `Over The Hills And Far Away`, der Skyclad-Track `The Queen Of The Moors (vom letzten "Forward Into The Past" Album), eine gekürzte "Drinking" Video- sowie eine `Strive` Akustik-Version fürs Lagerfeuer.
Fazit: unterhaltsame, facettenreiche, folkloristische "Liedersammlung", die auch dauerhaft Laune macht!
Michael Gaspar vergibt 7,5 von 10 Punkten