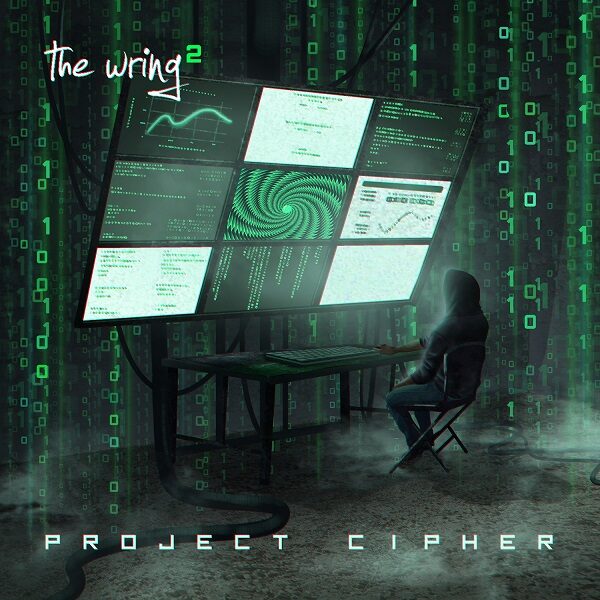 THE WRING
Titel: THE WRING²: PROJECT CIPHER
Spieldauer: 29:54 Minuten
Das 2015 gegründete Progressive Rock-Projekt THE WRING aus Ontario, Kanada, rund um Kopf und Mastermind Ron Dewulf und Bassist Jason Henrie, bedient sich erneut einiger illustrer Gäste, um ihre Songideen umzusetzen. Auf ihrem zweiten Longplayer "The Wring²: Project Cipher" sind dies unter anderem Sänger Marc Bonilla (Glenn Hughes, Ronnie Montrose, Keith Emerson), Bassist Bryan Beller (Joe Satriani, The Aristocrats, Dethklok, Steve Vai) und Drummer Thomas Lang (Robert Fripp, Peter Gabriel, Robbie Williams).
Es entsteht eine Mischung aus klassischem, prog-angehauchtem Hard Rock und Progressive Rock/Metal, wobei der Schwerpunkt eindeutig bei letzterem liegt. Dabei gelingt der Spagat zwischen genügend Prog für den anspruchsvollen Hörer und ausreichend Melodie und Riffing für den "normalen" Metal-Fan. Der Fokus liegt auf kurzen, knackigen Kompositionen ohne viel Frickelei und Firlefanz.
Und doch gelingt es allen beteiligten Protagonisten, ihr Können ausreichend zu demonstrieren und in Szene zu setzen. Als Anspieltipps unter den jeweils um die vier Minuten langen Tracks sind das kraftvolle 'Sorceress' und das ausladende, fast schon hymnische 'Steelier' sowie das komplett instrumentale mit einem grandiosen Solo ausgestattete 'Cipher' zu empfehlen.
Die sieben Stücke ergeben eine kurze Spielzeit von einer knappen halben Stunde, die ich normalerweise bemängeln würde. Zum mitreißenden, teilweise dramatischen Sound der kurzweiligen Scheibe passt es jedoch in gewisser Weise. Eine Veröffentlichung als EP wäre vielleicht trotzdem möglich und angeraten gewesen. Rein musikalisch gibt es jedenfalls überhaupt nichts zu beanstanden.
Michael Gaspar vergibt 7 von 10 Punkten