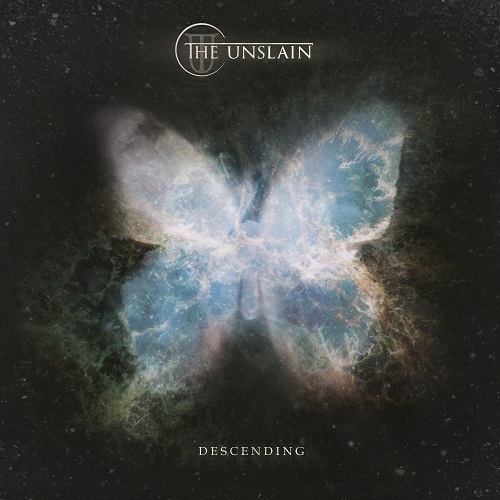 THE UNSLAIN
Titel: DESCENDING
Spieldauer: 55:06 Minuten
VÖ: 19. Mai 2023
Modern Old-School Metal aus den Niederlanden kredenzen THE UNSLAIN auf ihrem Zweitwerk "Descending", der auf das 2019er Debüt "We Will Battle" folgt, mit dem die Truppe den Publikumspreis des "Dutch Wacken Metal Battle Contest" gewann.
Die Genrebezeichnung ist Euch unbekannt? Die Band kreiert einen Hybriden aus klassischem Heavy Metal, moderneren Sounds und Metalcore und verarbeitet so breite Einflüsse von Metallica, Megadeth und Iron Maiden hin zu neueren Sounds von Bullet For My Valentine, Trivium und Lamb of God.
Die Lyrics erkunden die dunkle Seite des Menschseins wie Verzweiflung, Depression, Drogenmissbrauch und Krieg. Es entstehen starke, abwechslungsreiche Stücke in der Schnittmenge von Machine Head und Anthrax einerseits sowie beispielhaft Avenged Sevenfold und Trivium andererseits.
Dabei wissen THE UNSLAIN wie man gute, packende, stimmige Songs mit viel Melodie und doch jeder Menge Aggression und mit mitreißenden Refrains sowie schnittigen Soli schreibt, die manchmal auch an die Tür zum Prog/Djent klopfen.
So entstehen zeitgemäße Metal Hymnen wie das eröffnende `To Hell´, das grandiose `Within´ und das wuchtig-eingängige ´(In) Hell I Am´. Manchmal wird aber auch mal die Metalcore/Deathcore Sau losgelassen (`Eroded´) oder eher balladeske Töne angeschlagen (`Let Me Stay´).
Und beim abschließenden, epischen `Eden – Part 1 Apocalypse Postponed´ sind da auch wieder diese progressiven Elemente und eine Menge Dynamik und Emotion.
"Descending" überrascht, überzeugt und überwältigt mit einem spannenden Stilmix, starken Songs und jeder Menge Power, Energie und Abwechslung.
Michael Gaspar vergibt 7,5 von 10 Punkten