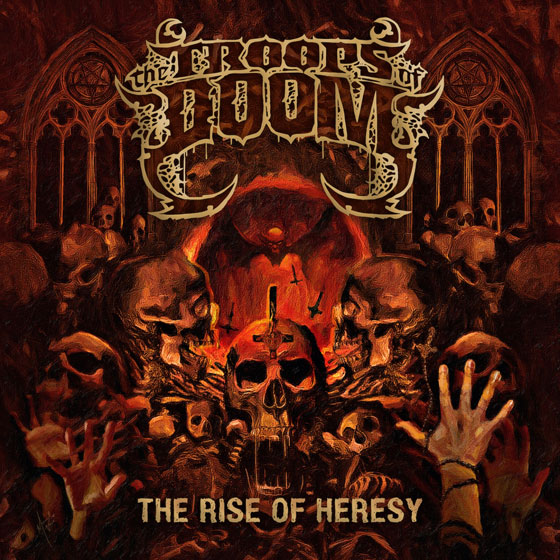 THE TROOPS OF DOOM
Titel: THE RISE OF HERESY
Label: BLOOD BLAST DISTRIBUTION
Spieldauer: 23:00 Minuten
Beim Namen  THE TROOPS OF DOOM klingelt etwas im Hinterkopf und ja richtig der Kopf der Band, Jairo "Tormentor" Guedz ist der Urgitarrist von Sepultura, der bei den ersten beiden "Gerumpel" Scheiben "Bestial Devastation" und "Morbid Visions", itte der 80er die sechs Saiten ordentlich verdrosch. Also für den Kultfaktor ist schon einmal gesorgt.
Mit "The Rise Of Heresy" erscheint unerwartet nach gut 35 Jahren eine Debüt EP, die den Geist der frühen Thrash-Death Szene atmet und musikalisch simpel aber unglaublich intensiv umsetzt. Vier eigene Neukompositionen der TROOPs und zwei Sepultura Klassiker, also 'Bestial Devastation' und 'Troops Of Doom' haben es auf die Scheibe geschafft. 'Whispering Dead Words' eröffnet den Reigen, indem es auch sofort los knüppelt als hätte es die letzten drei Jahrzehnte nicht gegeben. Geiler alter Thrash, der einfach nur auf die zwölf hämmert und nur mal kurz von einem fetten slow Riff unterbrochen wird. Genau in diesem Stil machen die vier Brasilianer weiter und schießen euch den primitiven Death-Thrash erbarmungslos ins Hirn. Der klassische oder einfach nur alte Sound passt zu dieser Scheibe und hätte, genau wie das Songmaterial, auch von den frühen Sepultura Alben stammen können.
Die wilden und rohen Songs sind natürlich nicht originell, sondern erinnern zum Teil an Kreator oder Celtic Frost. Hört euch mal 'The Confessional' an( das Video findet ihr hier). Aber ehrlich bei diesem derben Nostalgie-Flashback gibt es einfach nur simple brutal fun der unterhaltsamsten Sorte und da stört mich das nicht im Geringsten. Fett!
Sven Bernhardt vergibt 8,5 von 10 Punkten